Akio Jissoji: The Buddhist Trilogy - The Buddhist Trilogy( Blu Ray Boxset) [Arrow Academy - 2019]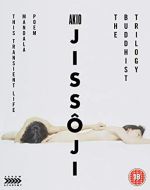 Akio JissŰji was a decidedly versatile and talented Japanese director- moving from family fantasy and Sci-fi for TV in the 1960, before diving into more serious and at times controversial new wave films in the 1970s, which utilized sexual content, artiness, with moments of brutality and heady Avant grade. This four Blu ray boxset on Arrow Academy brings together four of JissŰji films from this period, as well as a good enough selection of extras.

Before we get into the films themselves- let's discuss the release its self-the finished box set features a sixty-page illustrated booklet with new writings about the films by both Anton Bitel and Tom Mes, with the whole thing coming in eye-catching mainly white box- I canít comment on either of these, as we where just sent screener discs for review. Each of the four films are presented on their own Blu ray disc- and each of these first three taking in film introduction, and a selection of film key scenes with commentaries- these are both done by David Desser author of Eros Plus Massacre: An Introduction to the Japanese New Wave- the introductions each run around ten minutes, and see Desser talking in a relatively down-to-earth, and at times amusingly honestly manner about both the films, JissŰji, and the wider Japanese new wave/ arthouse cinema at the time. The commented scenes normally number around ten for each film- with a total runtime of these hitting around the ten min mark , and once again these are informative & interesting talking about themes, meanings, and the use of film- yet once again Desser never becomes pompous or pretentious in his thoughts- which is most appreciated.


1970ís This Transient Life (aka MujŰ or This Passing Life) is a wonderful self-assured and highly competent first feature film from JissŰji- aptly balancing storyline & effective characterization with creative-yet- appealing shot use, subtle artiness, with fleeting moments surrealism. It's the first part in the Buddhist trilogy, The film is set in the í70s and tells of Masao and Yuri- a brother and sister in their late/ teens early twenties who live with their bossy & abrupt merchant farther, and submissive mother- the family live in a small village near a Buddhist temple on the hill and a speeding train line. Masao doesnít want to work in his father business, or go to college- instead, heís obsessed with Buddhist stone art. Yuri is often sent on dates, as her father wants to matchmaker her away. One day when alone in the house, in a thunderstorm the brother and sister are fooling around in traditional masks- and all of a sudden they are have incestuous caresses- fairly soon the pair are often meeting to have their illicit sexual encounters. One thing leads to another and Masao pushes he father too far- so he goes to work with a famous sculpting master who is working on a statue of Kannon- the Goddess of MercyÖwhile there itís revealed his sister is pregnant with Masao baby.
From its outset JissŰji pulls you into the story, as we follow around the village- the shot use is simply spell-binding, as his camera follows the lines of buildings and paths, when characters are introduced they are either shot with close up face shots, at strange angles, or through things. Yes, as one would expect with a film with art-house leanings the pace is considered & lulling- yet the stories flow and ebb is always kept constant. Thereís a great visual blend of traditional and modern- as we move from the families traditional house/values & quaint village, up the stone steps and Buddhist stone work marked temple- then we have the modern world of the bullet train, and Masao twisted sexuality. By modern standards, I guess youíd say the sex scenes only fleet on softcore- and each is captured in a different setting, and filmed in both arty-yet-at times intense manner. The films main soundtrack cue is worth a mention too- as it consist of a suddenly urgent and angular saw string motive, that fairly quickly shifts to sort of melodic haphazard harmonic grandeur. All in all This Transient Life is a great feature-length debut from JissŰji showing both his themes & focus firmly in place, and the use of the camera is always clever, artful-yet never too deviating from either the story or tone of the whole thing.


Appearing in 1971 a year after This Transient Life, Mandara was JissŰji second feature film and the second part of his Buddhist trilogy- itís fair to say on the whole itís a more difficult proposition- both in its content, pacing, and mix of art-house & exploration elements. The film is once again set in the then present-day- and begins with two student couples going to a strange modern gothic hotel to swap partners. It turns out the hotel is owned by a cult who celebrate rape and agriculture- and use the hotel to selected new female rape victims, as well as draw people into their country set base where they worship there two focuses. The film attempts, and sadly often fails to balancing the often jarring/ shocking rape/ attacks, hints of horror/ gothic cinema, with often lengthy/ wordy monologues regarding the cults philosophy and the couple's bickering. The whole thing is filmed once again with great flair and moody invention- for example, we once again get use of rapid/ speeding camera shots, which are used to great results in both the beach/ bamboo forest settings that appear in the film. Also, there is a very effective use of both very nicely defined and vibrate color stock and more shadowy black and white for the brooding/ moody shots. The soundtrack is another positive here too- as itís mainly organ-based, which moves from early droning sinister-ness, and later more harmonic regal motifs. Another positive is at moments I'm reminded of Jess Franco- we have a great gothic-tinged dance performance lit with purple light, a later S&M tinged rape/ torture scenes, and the arty/ weird angled windows corridors of the hotel. Itís just a pity that the good elements, often get overrun/ engulfed by the more philosophical/ dialogue-heavy moments- which often drag on way too long, or lessen the impact of the worthy elements. So in conclusion, there is certainy a lot of talent/ creativity behind Mandara- and when itís focusing in on exploration with subtle traces of art-house itís most effectiveÖitís just when it drives to deep into overlong/ uneven dialogue it falls down- all making for a worthy, if flawed second feature. The new print of the looks both very impactful and defined- with the main color segments having a very crisp, at times ultra-real feel.


Poem was the third & final film in the Buddhist trilogy- it appeared in 1972, and itís fair to say this is very much Arthouse with a Captial A- with a very slow pace, lots of held shots, and much less risquť & controversial elements compared to the other two films. Though all that said there are moments of rye humor, moody well placed shots and fleeting hints at more spiritual unsetting atmosphere. The film focus on the on a lawyer and his wife, and their house staff- and in particular house boy Uta. He is extremely loyal and a stickler for routine- starting work at spot on 9 am and finishing work at the strike of 5pm, he also gets up in the middle of the night to Patrol the house to make sure everything is ok and there are no signs of fire. The other house staff are having affairs with each other, and at one point Uta sleeps with the lady of the house- but these are real slight diversion/ sub-plots, as the main focus of the film is Uta and his stanch routine & loyalty to the family. One day the family decides to move, giving the house over to the lawyer's brother who is an overweight playboy- and things start to get very awry for Uta.
The film is offered here in two cuts the theatrical released- which comes in just under the two-hour mark, and the extended cut which comes in around twenty minutes longer. I decided to watch the extended cut, and itís fair to say itís a very slow and plodding film, that also often lacks contrast in itís black & white picture. Through-out the film there are interesting & rewarding moments, but largely it just seems to drag. Itís not until the last quarter when the brother appears that it becomes a lot more appealing & effective- moving towards a very Buddhist like ending. The film is once again scored by non traditional Japanese music/ scoring- and instead we get selections of western classical string music, and mostly this consists of snippets Vivaldiís The Four Seasons- which really felt like a rather odd choice for the film's themes, and of course itís too familiar as well- which rather lessens the impact of some scenes. On the whole, the story/ ideas for Poem are worthy enough, and there are good moments though-out the film, itís just the pacing that lets it down.

The final film in the set is 1974ís It Was a Faint Dream( aka Asaki Yume Mishi, Lived in a Dream, Life of a Court Lady)- itís not part Buddhist trilogy- but uses some Buddhist themes, hence itís as a bonus film. What we have here is a period drama with arty and dreamy toches- itís set late 13th century Kyoto, when japan was going through a lot of changes. The film focuses in on imperial court where a peasant girl works her way up to the lady of the court, along the way she seems to hypnotize all the men she crosses- including the court's priest, she gives birth to his illegitimate child. Towards the latter part of the film she decides to leave court to live to a Buddhist monastery, as a nun away from temptation. The film is lushly shot & scoped- as we move from interactions in the court, hazed & dreamy imperial garden footage, and more gritty peasant footage- with later on more trippy & arty footage coming into play. Iíll have to admit at the best of times Iím not a big fan of straight period pieces- and sadly a big chunk of this does focus in on the more talky period drama, which at times shift into the philosophical talk. Though if you can manage to wade through these moments, the are some truly breathtaking and memorable setups- like the layered and building chanting & ritual fire of the lord's exorcism scene, or the priest breaking under the spell of the peasant girl, & spellbindingly elegant shots of breaking pray beads. The film rolls in at the two-hour mark, and I guess youíd say itís neither one thing or the other- been a blend of both arthouse & more straight Period drama.
The picture quality is great on this film- really highlight both the lush & dreamy qualities of the film, though once again the stock constant on the inside the court does tend to be once again dark.


Iíd say youíll at least have to have some grounding/ interest in Japanese cinema, as well as general artier & challenge film to enjoy this box set. Thereís no doubt that JissŰji was both a skillful, clever, and talented director- though at times he gets over-indulgent with both his artiness & themes, losing sight of good cinematic flow- but I guess you could level the same complaint at a lot of filmmakers in the arthouse bracket. For my self, I found each of the Buddhist trilogy equally worthy in their own right, and while I felt JissŰji first film was the most satisfying through-out, the other two had many great moments. The final, none Buddhist trilogy film is a worthy enough bonus, though the more period drama setting/ focus did put me off.






Roger Batty