Richard Stevenson - Spectrum Compendium(book) [Headpress - 2019]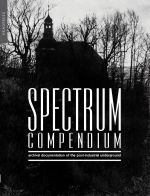 Being a fan of experimental or extreme music, sound, or, film was certainly a lot more difficult/time investing before the onset of the internet in the late 1990s, which changed pretty much everything - for better or worse. In those pre net days, the only way to find out about such things was by picking up fanzines, smaller print underground magazines, or wait for the next catalog mail out of your favorite cult mail-order company.

One of the last great and far-reaching publications of the last days of underground printed zines was Spectrum- which covered a huge amount of sonic ground under the banner of Post-industrial music- which takes in the likes of dark ambient, noise, neo-folk, martial and industrial music. Here from Headpress is a wonderful compendium of the zine- bringing together the five published issues, the unpublished 6th issue, and new interviews/ insights- making this a must-have item for any fan of the wider post-industrial genre.

The nearing four hundred pages perfectly bound paperback is presented in A4 sized form- with the cover featuring a nicely tactile dull matt B&W finish, similar in look/ feel to the equally excellent Fight Your Own War- Power Electronics and Noise Culture, which also appeared on Headpress a few years back.

Spectrum was the brainchild of Melbourne based Richard Stevenson- he started the A4 sized zine in September of 1998, and run it until May 2001- releasing in its lifetime just five issues. Though it's not many issues, the zine was both a very impactful and informative publication for whatever you were into Post-industrial wise. I think I first picked up issue number two of the zine, which appeared in March 1999- I brought it, as I did with most of my purchases in the scene via the long-running British mail-order company Cold Spring. I can still recall getting this second issue through the door, and been impressed with both the scope, coverage of the zine, as well as it's great/ down to earth interviews, readable reviews, and excellent darkly arty design. I carried on to buying the zine( via Cold Spring) until it sadly ended with issue 5 in 2001. And throughout its five issues, I found the zine vital to my introduction of new artists, as well a caught up on already known artist with the great interviews, or honest/ passionate reviews. Hell, I'd say the zine also help get me into writing about experimental music/sound myself- so it's a fairly big and important part of my love of Post-industrial music- and all the genres under that wider-reaching banner.

The first issue ran around forty pages, and each issue saw the page count grow- the layout of the zine was interviews first, and these each run between one to four pages a piece- in total over the six issues there are fifty-six interviews, and these take in some big and important names like Neo-Folk Pioneers Death In June, US dark ambient masters Yen Pox, as well as label interviews with the likes Slaughter Productions, Malignant Records, and Cold Spring. In the latter half of the zine, we got the reviews- which were always a good balance of unpretentious critique and project/ release facts. The first issue reviewed fifty releases, and by issue five one hundred and fifty titles where covered. Through-out the zine you, of course, had adverts for various underground labels, distributors and mail order companies- though these never became too overloading or intrusive.

The book first fourteen or so pages are taken up by write-ups about the importance and impact of the Zine by several respected scene members and label/ mail order folk- this is topped off by a four page write-up from the zines editor/ interviewer/ designer Richard Stevenson, discussing how/ why he started the zine and the ups and downs of it. Then we move into the bulk of the book, which of course is the five issues of Spectrum- here we get the zines reprinted ads and all- so these altogether run for just over three hundred pages. Then we get the unpublished issue six, as well as review archive from between 2001 and 2002. The books topped off with a 2001 interview with Stevenson, promotional flyers, live photos, and mail correspondence gallery.

Simply put if you have any interest in any facets of the Post-industrial scene, or wider extreme/experimental music/sound Spectrum Compendium is a must buy- as the scope, quailty of writing, and coverage is huge. To get an idea of the books content/scope, and of course, to buy direct from Headpress follow this link.






Roger Batty