Grover Washington Jr - Sacred Kind Of Love- The Columbia Recordings [Soul Music Records - 2019]If thereís one musical instrument that synonymous with the 1980ís itís the Saxophone- it popped up all over the genre map in the decade, from light rock, pop, soul, world music, R & B, and of course jazz/ fusion. One of the more respected, versatile, and popular Sax players of the decade was Grover Washington Jr, who is also seen as one the originators of that most quintessential late seventies-to-early 80ís sub-genres Smooth Jazz. Here on Cherry Reds sub-label Soul Music Records is a five-disc box set bringing six albums that were originally release Columbia Records- the set highlights both Mr. Washingtonís ability to write memorable and varied music that touches down in R&B, jazz funk, soul, populous fusion and straight-ahead Jazz. The box set is presented in the form of a flip side hard card box- inside each of the five discs has their card slip sleeve, as well as a twenty four page inlay booklet- this takes in a new fifteen-page write-up, about the albums to hand and Mr. Washington's career between the late 1980s and mid 1990s where these albums come from. Thereís a personal tribute from Blues & Soul magazine writer David Nathan, as well as full album credits, reproduction of vinyl labels.

After been involved in playing in a few jazz collectives in the early-to-mid 1960ís New York-based Grover Washington Jn starting releasing his own solo albums in 1972 with the release of Inner City Blues- this six-track affair was recorded in the famous jazz recording studio Van Gelder Studios- and it saw him offering populous and accessible blend of smooth jazz and jazz fusion- through-out the 1970s and early 1980ís his popularity grew and grew with his albums charting between ten and six in the American top 200- with 1980ís Winelight been his biggest selling record to that date, and this cemented him as a commercial jazz name- that really put his music way up and beyond the normal jazz buying audience.

This box sets story begins in 1987, when he signed to Columbia- releasing his first album for the label Strawberry Moon- this was an eight affair that offered a very slick, smooth and commercial shot of smooth jazz/ jazz fusion- with a good selection of guest vocalists, with the album moving from a very laid back- and sensual soul-meets-slow waltzing rhythm of "The Look Of Love", with itís expressive and sultry female vocals of Jean Carne. Though to Smoky-to-sassy blues rock-meets- rich sax soloing of "Church Of Your Love" with vocals by the legendary BB King. The album also featured some classy instrumental works too- like the bright and breezy keyboard and wail sax melodies of the albums title track, onto choppy and sleek ethno electric rymthes meets funk vibe of "Summer Nights", with Washington offer up some greatly expressive yet harmonically soaring horn work.

The next album 1988ís Then & Now takes up the rest of the first disc with itís opening five tracks, with the remaining four tracks appearing on the start of the second disc. This album sees him going for a much more straight forward, less populous Jazz sound- as he switches between tenor, soprano, and alto- he brings in the likes of Tommy Flanagan or Herbie Hancock for piano backing on five of the tracks here, and while his playing & his collaborators are very polished & richly fluid- I personal find the album a bit of a trudge to get through- much more preferring his commercial jazz fusion/ smooth jazz sound.

The third album here( on the remainder of disc two) is 1989ís Time Out Of Mind- and this ten-track affair sees him much pop and commercial R&B/ jazz-funk/ dance/ soul feel to a lot of the tracks- with very prevalent uses of electronic rhythms and keyboards. We open up snapping beats-meets- dart synth bass of Jamacia- with Washington topping the whole thing with a vibrate and sassy melody. As we move through the record we come Scared Kind of Love- which is a laid-back smooth jazz- soul blends with great impassioned-to- soaring vocals of Phyllis Hyman. Through to the emotive, mellow and emotional felt instrumental ballad of "Unspoken Love" with Washington Alto really oozing loads of melodic feeling and emotional. Itís a great album, and certainly one of the highlights of this set.

Moving onto the third disc in the set- and we firstly have the eleven tracks from 1991ís Next Exit- this album begins with a very decidedly urgent and keen percussion focused version of ďTake FiveĒ- with Washington sax work swooping and wailing of the stabbing synth work and clip-clopping percussive hits. Later on, we come to sleek and sensual pop-jazz of the title track, which blends rich upfront blues piano fills and sassy-to-sailing horn work. We have the slamming synth-funk and meets sleek strut & chugging pop-rock guitars Of Summer Chill- with Washington expressive & vibrate horn lines on top. For the most part, itís another great and memorable album, the only slightly embarrassing moment is the early í90s pop-rap meets sassy soulful female vocals of "Check Out Grover".

The final three tracks on disc three are from the start of 1994ís All My Tomorrows- this is Washingtonís first all-acoustic record- and itís more of straight easy listening/ jazz record. Once again the playing is nice and smooth, but for me, it just felt a bit too bland- at moments even wondering towards lift music. The remainder of this albums seven tracks can be found on disc four.

The firth and final disc here takes in the last album of set 1996ís Soulful Strutt- and this ten-track affair sees Washington return more synth and electronic drums lined soul-jazz terrority. At times the production and the feel of the album feels a tad too over polished and sleek- but Washingtons horn playing it wonderful melodic, rich and at times quite playful. Once again thereís keen sense of making commercial and memorable jazz touched music through-out the record, and in a way it still sonically feels like much of itís in the 1980ís smooth jazz/ R& B setting- but Iím not complaining as once again itís a nicely varied album that moves from sassy upbeats, onto to more smooth dramatic, through soulful ballad.

Sadly after these albums, there was only one more proper album from Washington 1997ís Breath Of Heaven, as he sadly passed away in 1999 at the much too young age of 56. But thereís no doubt about it he left a great body of work behind him- with these late 80ís to mid-1990ís album showing his ability to create smooth-to- sleek commercial jazz fusion music which will appeal to anyway who enjoy Smooth Jazz, R&B Jazz, or tuneful pop-focused jazz. At present this five-set is priced around the twenty- so itís certainly good value as you get the six albums, a sturdy box and of course the glossy/ informative booklet.






Roger Batty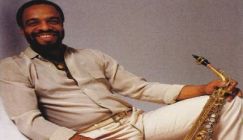 Grover Washington Jr - Sacred Kin...
If thereís one musical instrument that synonymous with the 1980ís itís the Saxophone- it popped up all over the genre map in the decade, from light rock, pop...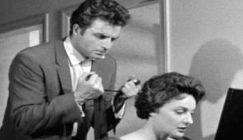 Noir On Powerhouse Films - From O...
Peopled by glamorously elegant- yet- tricky femme fatales, flawed heroes, and shadowy yet cunning criminal bosses- noir is one of the most atmospherically in...