Neuro ... No Neuro - Scans [Audiobulb Records - 2019]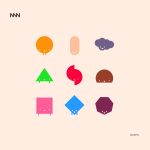 Kirk Markarian is an American musician, artist, and designer living in Arizona. Since 2010 Kirk has created his experimental electronic music with the help of digital technologies. In 2017, he started Neuro ... No Neuro (NNN), which to date has released eleven releases- the most recent I'm review today

In 2019, American label Audiobulb Records- whom specializing in experimental electronics, as well as supporting the development and use of various VST plugins and software modules, released two full-length albums of Neuro ... No Neuro. The first album will be released in August The Edges Are All Wrong. The second album Scans, will be released in September. In this review I covering the second album, which is now at the stage of pre-order. The label are releases the albums in digital form and as CDs. However, the album Scans is presented so far only in a digital format. You can make a pre-order on the label's website and on its Bandcamp page.


The album cover was made by Kirk himself and consists of nine anthropomorphic geometric figures of different colors, arranged in three rows below each other, against a pale beige background. The figures resemble pictograms or minimalistic logos. In the upper left corner is the Neuro ... No Neuro logo, made in the form of three letters NNN, connected to each other, in the manner of a saw wave. In the lower right corner, the albums title is written in a thin simple font. Since Kirk Markarian is a designer, the cover should be regarded as a graphic art object. Undoubtedly, all these pictograms have a very personal meaning. With Kirk tring to convey his emotions, which he experienced during several surgical operations on the brain, subsequent rehabilitation, and during certain consequences of the disease and treatment. I find it difficult to assess whether the cover fits into the musical part of the album since both the cover and music presented on this album are very personal. The album, with a total duration of just under thirty-seven minutes, consists of fourteen tracks.


All tracks are made in a simlar style, so I see no reason to dwell on each track separately. I will say right away that I am not a fan of this type of music and do not follow the development of this branch of experimental electronics, therefore some of my formulations may not be entirely correct. The album is entirely made from sounds that have been sequenced in Renoise. I am not familiar with this software, however, judging by the general sound of the album, all the elements were created using digital oscillators and digital processing. We can hear the distinctive digital sound, in some moments very reminiscent of the Chiptunes or Music Box sounds. These sounds reproduce simple, not catchy melodies, or unharmonic notes. These elements are surrounded by a large number of sound elements. At first glance, short clicks, beeps, glitches, squeaks and much more - this is a chaotic arrangement of sounds. However, when the minimalist rhythm part (bass + kick, or something similar) comes in, all the elements are put in their places. Almost all compositions are made in this style. However, there are tracks such as, for example, "Radiation Treatment", in which there is only a melodic line, without rhythmic support. Usually, in my reviews, I present comparisons with the work of some musicians or bands. But since I'm not very familiar this type of music, I can only compare some elements of Scans with minimal techno, glitch releases on the likes of Raster Noton.

As for my personal impressions, the album seemed to be a bit boring. During the first play through, I could not listen to it to the end. The second play ended the same way. Of course, in the end, I listened to the entire album. I did not like the monotony of the material. Despite the fairly large number of tracks, they seemed to be the same, and often un-finished. Even though there is clear compositionality here, all tracks feel like small musical/sound etudes or parts of something larger. I know that the album contains a certain concept and emotionality. However, I could not associate the musical part of the album with the cover, and with a rather dramatic concept. I repeat once again that I am not a big fan of this type of music, so listeners who are better acquainted with and enjoy repetitively & stripped electronic music will get more from this release then I did.






Sergey Pakhomov