White Slave - White Slave(DVD) [Full Moon Features - 2018]White Slave is a cheesy, but surprisingly engaging, and at times damn bloody 'n' brutal jungle adventure from the mid-1980s. Here we have a recent(ish) region free DVD release of the film as part of Full Moons Grindhouse series. Originally released in 1985 White Slave( aka Schiave bianche - Violenza in Amazzonia, Forest Slave, Cannibal Holocaust II - The Catherine Miles Story ) was directed by Italian director Mario Gariazzo(as Roy Garret). And while it features elements from the Cannibal genre- decapitations, animal attacks, and white person in peril in the jungle- there are not really any direct cannibal gut-munching or related action- hence I think it's best to describe what we have here as a jungle adventure/thriller.

The whole thing doesn't start particularly promising- as it very much feels like a re-run of Cannibal Holocaust, as we find eighteen-year-old Catherine Miles Armstrong(Elvire Audray) been tried in a topical court for the murder of two people- then as she starts recounting her we story we get overhead jungle shots, sound tracked by slurred, rundown, and more chessed-up easy listening synth version of Riz Ortolani's original theme for Cannibal Holocaust. Fairly soon we are introduced to Catherine's mother & father who are making their way along the amazon- following behind them in a smaller boat is the girls cousin & his wife. We find out that the parents own a profitable business in the area, which the cousin & his wife are keen to take over. Next, the boat where the parents and Catherine are is attacked by natives- and we get some fairly intense & bloody arrow killings, then decapitations of both parents- with Catherine been taken off into the jungle- with her parents' heads.

As the film progresses we see the teen been stripped, then slowly but surely been brought into the tribe. Along the way we get more decapitations & limb loppings, natives hung upside down-then having their face eaten by bugs & worms, nasty animal attacks with grim fly-covered aftermath, brutal beatings, and more. The unfolding story, is yes, a little predictable as young Catherine falls for one of her captors, as she finds out what really happened to her parents- but it unfolds in a pacey, tense, and at times very cheesy manner. The films English dub is fairly standard, at times typically silly for Italian films- but clearly there was some sort of budget, above & beyond your normal lo-rent jungle adventure/ cannibal films- as the natives look genuine enough, the locations look well filmed & fairly authentic, and of course you get more than enough gore & blood to satisfy Italian splatter fans.

I went into White Slave expecting another clichéd cannibal film and came away pleasantly surprised- sure it's still not particularly original, but it does have enough going for it compared to the sea of Cannibal Holocaust & Cannibal Ferox rip-offs. As with all the releases on this grindhouse series, the print here is fairly untouched VHS quilty- but it's not bad. In conclusion, if you enjoy 80's jungle adventures/ thrillers, with cheese & gore I think you too will enjoy White Slave.






Roger Batty




White Slave - White Slave(DVD)
White Slave is a cheesy, but surprisingly engaging, and at times damn bloody 'n' brutal jungle adventure from the mid-1980s. Here we have a recent(ish) regio...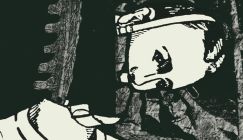 Hastings of Malawi - Deliriously ...
Formed in the early 1980s, after the member's sonic dabbling's on the early Nurse With Wound records, Hastings Of Malawi took a decidedly busy and deta...