Varg - Evanescence (A Love Letter) [Posh Isolation - 2019]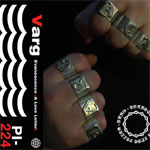 Hot on the heels of Croatian Amor's latest record comes fellow Posh Isolation denizen Varg (Jonas Rönnberg) with Evanescence (A Love Letter). The Swedish producer has had a particularly prolific last year or so; putting out the fifth instalment of his Nordic Flora series, in addition to collaborations with AnnaMelina and the aforementioned Croatian Amor. Collaboration and cross pollination have been at the heart of Varg's music during the few years he's produced under that name, racking up a good three dozen releases in the process. On Evanescence, his previous experiments with drone, darkside techno and industrial are further augmented with down-tempo R&B and Vaporwave sonics.

As the title alludes to, Evanescence carries strong themes on romantic attachment, loss and the ephemeral nature of memory and experience in our era of total digital mediation. In many ways it functions as a companion piece to Croatian Amor's ISA, which approaches similar ideas from a different angle. Just as Loke Rahbek does on ISA, Varg makes liberal use of text-to-speech software throughout the record; the effect of which is to hollow out the warmth from what is being said, leaving disembodied phrases yearning out from cyberspace. The record opener Love Letter (Sky City, Introduction) is a case in point, wrapping up phrases, "It's a cold world", "everyone is looking for something different" in almost intentionally artificial sounding canned strings and arrhythmic percussive samples. Things are no clearer with the agitated Burial-like cinematics of 100,000 plants fell to the ground (1990) which launches blasts of snare drum across a pallet of scorched synth drones and unintelligible vocal snippets.

The midpoint of the record is where things really get going, first with Wear It (100,000 Petals Fell Like Rain) , a ricocheting amalgam of trancy synths, bell percussion and more text to speech weirdness, then on Perfect Violation, which sees vocals handled by Swedish rapper Bladee. If the idea of a Swedish white rapper dropping rhymes over a slice of Vaporwave inflected R&B is your wet dream, then this is the track for you! Seriously though, it's a good tune, with Bladee adding some much needed pathos on the subjects of life, love and luck, to a record that was beginning to sound a little devoid of the human touch. Oddly, Varg chooses to follow this with an instrumental version of the same song, titled Everything Turns to Ash albeit in a slightly different key and with added text-to-speech samples. Things get back on track with Crush_Melt another good vocal performance featuring Flora singer Melina Åkerman Kvie, who was Varg's collaborator on last year's Welcoming Elegance. Here, she sings soulfully, contorted through a web of discordant ambient effects and trance sonics.

If Varg had called it a day here I think he would have had an extremely accomplished extended EP. However, he carries on to the last third of the record which takes a rather odd turn towards sludge metal and industrial noise. First it's Puce Mary (Frederikke Hoffmeier, who seems to be everywhere right now) lending her characteristic psychosexual reflections to Dog Day which could have been lifted from her recent album for PAN. Then after the strangely martial sounding trap/ambient of I Get Lit (Cause if Not I Think of You) we reach Tear It (End) which is basically nine minutes of sludge metal featuring guitarist Erik Karlsson with shouted vocals from a fashion model called Ruby Aldridge (daughter of psychedelic swinging 60s graphic artist Alan Aldridge). There's nothing of Varg's sound in this last song, which is a shame as despite the weird combinations in what had gone before, the record holds together with a surprising cohesiveness.

Varg is a clearly a supremely talented producer and his tendency to introduce other artists from his Danish/Swedish clan is a positive attribute of his style. However here I feel if he had held onto the reins a little tighter he could have had the standout record in his already impressive discography. In the end Evanescence (A Love Letter) has a lot to admire, particularly in its odd combinations of vocal samples, industrial ambience and hip-hop styles, but it's just let down by an uneven last third.






Duncan Simpson