Magna Carta - No Truth in the Rumour [Talking Elephant - 2018]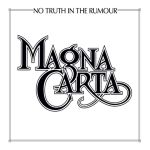 Magna Carta are an English progressive/folk rock band formed in 1969 by Chris Simpson (guitar, vocals), Lyell Tranter (guitar, vocals), and Glen Stuart (vocals). No Truth in the Rumour was the bandís eighth full length album, originally released in 1979 on Ariola records. By the time of this release only Chris Simpson remained from the original line-up, he was joined on this release by a host of top class musicians including guitarist Doug Morter, who has worked with amongst others, Richard Thompson and Maddy Prior, and violinist Tom McConville who has played on hundreds of albums from a wide range of popular artists including the aforementioned Richard Thompson and Newcastle folk rock legends Lindisfarne.

The album opens with the title track, No Truth in the Rumour, a fairly catchy, uptempo rock number that features more than a nod to various other bands of the era, most notably Lindisfarne and Dire Straits. Strangers in the Land of Ulysses is up next and has a decidedly country rock vibe to it that reminds me a little of The Eagles. Sting of the Gin has an Americana vibe, not that dissimilar to the material that someone like Tom Petty has mined to great success. Written in the Wind is a fairly generic sounding 70s ballad, and for me a little bit cheesy. Jigsaw Man picks up the pace again, itís a catchy blues rocker that whilst breaking no new ground works reasonably well. Wind on the Water is a big piano ballad and probably one of the stronger tracks on the album, featuring actress/singer Kate Robbins on vocals. It has a really commercial vibe and could easily have been a massive pop hit. Mckenzie takes things in a different direction, with a real funk rock feel. This is one of my personal favourites on the album.


The second half of the album gets underway with a country tinged ballad that wouldnít sound out of place sung by Glen Campbell. Rings Around the Moon is a pretty decent soundalike for that generic American country rock sound used by so many artists in the 1970s. Call Me is a stomping blues rocker, the sort of thing Status Quo had become famous for. All Our Yesterdays is a fairly generic folk ballad that transcends its status by featuring some almost George Harrison-esque guitar work, and some lovely vocal harmonies. Workiní On the Road is an uptempo country rocker that owes a debt to the likes of Lynyrd Skynyrd or The Allman Brothers. Itís another of my personal favourites. World in the Palm of My Hand is a nice catchy, bluesy number that makes for a pleasant enough listen. Stoney Rose has a commercial sound that was really of its time, and much like several other tracks on the album I can hear a definite Dire Straits influence. The album closer, Living with a Woman Like You rocks things up a little bit on the chorus, but is a pretty decent pop track.


Overall the albumís strength lies in the compositions, Chris Simpson is a timeless songwriter, however the production on this release sounds very dated at times, and there does seem to be an attempt to cash in on the sound of some of the other bands who were successful at the time, most notably The Eagles, Tom Petty and Dire Straits. Whilst it didnít change anything, the album is a pleasant enough listen for fans of those mentioned above, and to be honest there is probably something in here for fans of most 70s folk/rock music.






Darren Charles