Decameron - Tomorrow's Pantomime [Talking Elephant - 2019]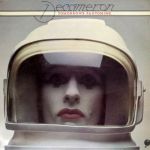 Decameron were a progressive/folk rock band formed in Cheltenham in 1968 by guitarist/vocalists Johnny Coppin and Dave Bell. Rather bizarrely during their early days, the band were managed by Brummie comedian Jasper Carrot before they went on to sign their first recording contract with the legendary Vertigo records in 1973. Later on that same year, the band's debut album "Say Hello to the Band" was released, and followed up a year later with "Mammoth Special", a third album "Beyond the Light" or "Beyond the Days" was mooted before being scrapped. The band left Vertigo and released their third album "Third Light" on Transatlantic Records in 1975, this was followed up the following year by "Tomorrow's Pantomime" their final release before the band split and the subject of this review.

The album opens with The Deal, a fairly typical sounding mid 70s folk rock tune that borrows from many other bands of the era. Dik Cadbury's violin turns up midway through the track adding that little extra something that pushes it beyond merely average. The track features a good catchy chorus and makes for an ideal opening track. Fallen Over is next and sounds so much like Lindisfarne, one could be forgiven for thinking it was a newly discovered track by the Geordie folk rock legends. It remains however pleasant enough, catchy pop/folk song that isn't going to break new ground. This is followed by Ask Me Tomorrow, a much folkier number that wouldn't sound out of place on a Fairport Convention album from around the same time. Dik Cadbury's lead vocals work well and remind me of Richard Thompson at times. As we approach the album's mid-point, we discover Dancing, a stab at funk/rock that works better than it perhaps should. The band were obviously taking note of the direction bands like Deep Purple were heading in during the David Coverdale/Glenn Hughes era with albums like Burn, Stormbringer and Come Taste the Band. The albums central number is also its title track Tomorrow's Pantomime, a catchy folk-rock number and possibly my favourite on the album. Once again, the Fairport and Steeleye Span influences are evident, but the track itself stands on its own merit.


The second half of the album kicks off with Single-Handed, a track that really is best described as more of the same. A pleasant enough song, but the band feel like they're treading water here, or perhaps this is just paving the way for one of the album's best tracks, the lush country tinged ballad, Crazy Seed. The Shadows on the Stairs is next, and what starts out as a tender track detailing the breakdown of a relationship quickly takes on a rockier stance before once again returning to its roots in its tender beginnings. Johnny Coppin's vocals feel incredibly honest and convey the emotion involved. Lyrically this is one of the stronger tracks for me. The album closes with the medley This is God's Country/Peace with Honour. The first of which starts off as a real rocker, which ebbs and flows but always maintains a sort of Bad Co. vibe, Coppin's vocals even suggesting a Paul Rodgers influence at times during the song's duration. The second part, Peace with Honour has a real American feel to it, certainly from a lyrical perspective this is true, however, the song also has a real American style production about it.


Overall, this is a decent folk-rock album that as well as borrowing from the well renowned figures of British folk rock, such as Fairport and Lindisfarne, also borrows from the likes of Deep Purple and Bad Co. The songs are pleasant enough for the most part and the band's performances are top notch, however the main criticism of the album is that overall the songs are just a little too average to stand out from the crowd. There are a couple of exceptions to this (Tomorrow's Pantomime, Crazy Seeds and So This is God's Country), however, on average it remains a decent record and one that is worthy of re-evaluation in light of this reissue.






Darren Charles