William Castle At Columbia Volume One - William Castle At Columbia Volume One( Blu Ray box [Powerhouse Films - 2018]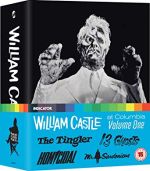 On Powerhouse films- here's a four Blu Ray boxset of the William Castle films from between the late 1950s & early 1960s. The films here move from campy creature feature, onto playful haunted-house fair, through to psycho-drama, onto gothic horror. Castle was known for his gimmicks, and each film here has one, but what this set highlights most is his versatility, passion & flair for horror, in all its many flavours. And as we've come to expect from Powerhouse the release is literally bludging with extras.

From 1959 The Tinger was the second collaboration between Castle & actor Vincent Price. The film tells of suave & slick doctor Warren Chapin( Prince), who has become obsessed by the idea that the human body produces something he calls ' The Tinger' when it's in frighten & unable to scream. In the end, one thing leads to another, and the beast appears- looking much like a twitching & snapping giant centipede. I guess you could say The Tinger is an early example of the body horror genre, but of course high with campy horror fun- along the way we have – Isabella the scheming & cheating wife of the doctor( Patricia Cutts), a deaf-mute women, creepy killer stalking scenes & some rather neat blood red colouring in the black & white film. The gimmick for this film is probably Castle most known & sophisticated, and found the placing buzzers on the seats of some of the theatres goes seats- which of course went off in certain scenes. On the whole the films a great blend of amusing bickering between Price & Cutts, a lightly creepy-though- campy atmosphere, with some fairly effective chills & thrills.
Extra wise on this first disc we get an excellent new commentary track from two genre expects Jonathan Rigby, who wrote American Gothic: Six Decades of Classic Horror Cinema, and Kevin Lyons- the editor of Encyclopedia of Fantastic Film and Television. The tracks a wonderfully chatty & fun blend of film facts, actors bios, and observations- the pair keep you interested throughout, and like the best tracks it really adds another edge to the whole thing.
Next, we get a new 17 minute appreciation of the film by Kim Newman, a new four-minute interview with actress Pamela Lincoln, and a 16-minute featurette from 1999 discussing the film, it's gimmick & impact.

Released in the 1960 13 Ghosts was one of the only titles here I was fully familiar with on the set, not due to this original but the 2001 re-make, which was the second early late 90's/ early 00 of a William castle from Dark Castle entertainment, following on from 1999's House On Haunted Hill. The remake had always been somewhat of guilty pleasure, so I was eager to compare it to the original- and I must say I was pleasantly surprised- as the films a wonderfully blend of kooky & cheesy 1950's family banter, floating kitchenware & candles, amusing & seemingly carefree Ouija board action, suddenly appearing spectres, and as with all Castle films a great gimmick- and this time it's down to using blue & red( for the ghosts) colourings , which interacted with the original cinema-goers- as they had to either looking through the blue or the red screen they where given- so if you believe you'd look through the red, and blue if not. The film's plot tells of financial strapped middle-aged man, his young son Buck(!), his older daughter, and wife- who find out they've been given a large house by the late ghost collecting relation- they move in with the help of shady lawyer, &the creepy female housekeeper( played Margaret Hamilton- who was the Wicked Witch of west in the Wizard Of Oz). And bang fairly soon we've got a selection of quirky ghosts taking in a manic plate smashing Italian cook , headless lion tamer, & burning skeletons. On the disc you get two versions of the film the original 'Illusion-O' version (85 mins) and the original black-and-white version( 83 mins), I only watched the 'Illusion-O', and I must it's a lot of fun with the red & blue elements been most effective.
Extras wise on this disc there's a lot, firstly there 's a new featurette from Stephen Laws where he discusses his impression of the film on the disc, and these ten to fifteen-minute picec are a blend of personal anecdotes & film facts, all making for interesting snapshots of the film. Next is the 2007 documentary Spine-Tingler! The William Castle Story- this is great, great doc- it runs for eighty-two minutes, covering the whole of his career starting from his work in stage productions, early dabblings in cinema. Onto the films he directed, and when he produced Rosemary Baby. The doc features Castle daughter, his driver & friend, a host of cult directors such as John Walters & Fred Olen Ray, and others who knew Castle- it really is a very worthy, informative & fun doc, which I think will appeal to anyone who enjoys film. With the doc you get a commentary track from Castle daughter & the director, you also get a ten-minute making of. Next, we have The Magic of 'Illusion-O'- a 2001 eight-minute featurette, discussing the film & the gimmick


From 1961 Homicidal was Castle decidedly Hitchcock influenced mystery/ thriller, with slight horror touches. The film very much saw Castle move away from the more campy & playful scares of his early films, for a darker more modern psycho killer theme. Clearly, a huge influence is taken from Hitchcock psycho- and not only in fleeting comparison, as Castle almost recreates scenes/ settings from Hitchcock's masterpiece- we have a hotel room, a female taking a night-time drive, and even one of the killings take place on a staircase. Though there are some originally twists here & there, like wheelchair-bound older women, some fairly jarring & shocking murder scenes, and a great lead lady who really isn't what she seems. On the whole, the film is effective, if a little slow in places, and the last ten or so minutes after 'the fright break' (Castle gimmick on this film) - are a great blend of creepy tension & surprise. I won't go onto detail the plot on this one, as to do so would both ruin some of the key twists/ surprises- but as I say if you think in a similar vein to Psycho you'll get the idea.
Extras wise on this disc you get a very passionate & animated commentary track from film historian Lee Gambin- he discusses his love for the film, it's cast, the soundtrack, and pretty much everything relating to the film's production, it's impact, and of course the gimmick- which sees him quoting from the one & only John Waters, who went to see the film when it was the first release- and those who wanted to leave in the 'fright break' had to stand in the lobby in the cowards corner- all told it's a great track, which certainly made me appreciate the film more. Next we get another new featurette from Stephen Laws talking about the film. Added to this we get a few featurettes- such as a footage from the Jonestown premier of the film, Fred Olen Ray & other discussing the personal impact of the film, etc.


Finally, we have Mr Sardonicus- this was released in 1961, the same year as Homicidal- and it's really completely at the end of the horror spectrum. The film is Castles take on the gothic horror genre- and it's fair to say that it's one of the finest examples of the genre, up there with the likes of Roger Corman's Poe films. It has everything you'd expect from Gothic Horror- a creepy henchman, grand & moody mansion, graveyards & lots of mists, moody coach rides over barren haunted land, darkened cobweb weaved rooms and a devilish-yet-suave villain. It takes all these key Gothic horror elements, and puts into a pacey, moody & at times creepy plot that sees brilliant doctor Sir Robert Cargrave(Ronald Lewis) going to save his ex-lover from the clutches of Mr Sardonicus(Guy Rolfe)- a chilling human mask wearing, darkly cunning, and sadistic nobleman who lives in the middle of nowhere dark & brooding Europe. The gimmick is still present in this film, though it's played done somewhat-it sees Castle pop-up just before the end of the film to do a punishment poll, which found the audience voting on the villain's outcome by an upside down or up facing thumb card. Of all the films here I'd say this is my favourite, as it's an excellent blend of gothic mood, great & pacey plotting, with some neat chills & subtle campy horror charm.
Extras wise on this disc we get a new twenty seven minute discussion from Jonathan Rigby about the film- he talks about the novella it was based on, and how it was adapted for the screen, and how the film fared with BBFC when it first came out.
Next of the new stuff is another full length commentary from Samm Deighan and Kat Ellinger of the Daughter Of Darkness podcast / Diabolique Magazine this sees the pair discussing the film & how it fits/ relates to wider gothic horror cinema, and Castles wider career & themes running through all of his films- this is an enjoyable & chatty track, Finishing off we another couple of shorts focusing in the films gimmick.



William Castle At Columbia Volume One is another great genre boxset from Powerhouse- the company really put some much thought, love & genre passion into each of their boxes. Really if you're a fan of the 50's/ 60's horror, you need to go & pick this up now…as with all the companies set this is ltd- so don't hang about!.






Roger Batty