Various Artists - In Progress Volume III [Centrum Sztuki Wspů≥czesnej - 2018]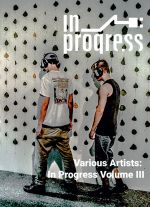 Here's the third in the series of CDs featuring Avant Garde/experimental performers who have featured at the In progress live events that take place in Poland. These events feature a combination of music, theatre, dance, film and audio/visual arts. The tracks that feature on this third album in the series provide an interesting overview of the experimental musicians working in the Avant Garde music scene in modern day Poland.

Rutger Zuydervelt opens the album with the track Stay Tuned £aünia. Edited down from a longer live recording, at five minutes long, itís quite short for a drone piece, however it works as to give a taste of Rutgerís sound. This is a fairly typical ambient drone, performed to a reasonably high standard. TER are up next, and once again we are treated to an edited excerpt of a longer live piece recorded at one of the In Progress events. Titled Unlock, the second track is an ambient electronic piece featuring a variety of bleeps and blips over a simple synth backline. K.Justka/Electrįcute were up next with the appropriately titled Live Exerpt featuring mostly samples and found sounds. Renť Margraffís Uno was up next, a spooky minimalist slice of ambient electronica that builds and builds across its seven minutes into something more substantial by the end of the track. This is one of my personal favourites on the album. Aki Ukiís Poprzednie comes from a very similar place and whilst itís not quite of the same standard, itís still a pretty solid track. Voices in the Gdansk Wind by Helene Breschand represents yet more ambient synthy goodness. More fairly solid creepy acid inspired electronica ensues. The following track is Mytripís Chest Pain, one of the few tracks not recorded live at one of the In Progress live events. We are still in familiar territory however, and after a very slow build the track ends up featuring some really nice warm sounding synth work.


The second half of the album kicks off with the rather fabulously monikered Mammoth Ulthana, who blend ambient electronica and samples to create something pretty creepy and otherworldly. Mothertapeís Problem 4 is another of the stronger tracks on the album, blending samples and found sounds to great effect. Itís also one of the more eccentric sounding numbers with its roots firmly in the tape manipulation of the late 60s psychedelic era. Itís also the only track on the album that features an actual vocal track. Joe Karmaís Trees begins with the industrial clank of motorik electronic drum beats. Repetitive and off kilter this adds a little variety to proceedings. The other studio track featured on the album comes from Fabio Orsi, The White Wandering is a gentle reflective wash of electronica synth. A decidedly pleasant listening experience, that is set apart from the other tracks via its overwhelmingly warm, rich tones. Olga Szymulaís track features a variety of melodic synth lines that playfully dance around the ambience created by the found sounds that are the trackís backbone. At only two minutes long the track is the shortest on the CD and one that feels like it has much more to offer. Mirtís XXXVII is a fairly pleasant ambient piece, featuring some percussive samples that give it a hypnotic sort of kosmische vibe, without ever really being kosmische track. Rongwrong closes out the album, and once more weíre back in familiar creepy electronica territory.


This compilation brings together a host of artists previously unknown to myself, which does make for an interesting first listen. Sadly, whilst the quality of the music is generally quite high it does feel very much as though it is all cut from the same cloth, with a couple of exceptions. Ambient Avant Garde electronic drone is the order of the day here, however some of the better tracks do veer off in interesting directions, such as Mirtís flirtation with kosmische or Mothertapeís nod to the tape manipulation of the 1960s. Overall, itís a pleasant enough listening experience but Iím not sure how often I will return to it. Only time will tell Iím afraid.







Darren Charles