Verhalten - Corrupted Structures v.1 [Modern Tapes - 2018]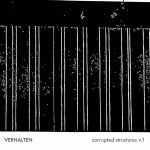 Verhalten's "Corrupted Structures v.1" is the twenty-seventh release from Modern Tapes, based in Albuquerque, New Mexico (according to Bandcamp, although Discogs describes the label as being Chicago-based). This is the first time for me listening to and reviewing both the label and the artist in question. I have to say it's quite nice to be presented with opportunities like this - and to come into a release with few expectations and a totally open and clean pallette. I spend a lot of my time listening to music and noise from artists who I have a long history with and it's always refreshing to break from this chain. The release comes in a brown envelope rather than a cassette case, with the envelope closed by a sticker. With releases like these, and those that do use cases but seal those with stickers as well, I tend to use a scalpel to cut a fine line across the enclosing sticker to try and preserve the intended presentation. The tape takes in two tracks of identical size, one to each side.

Side A, "Squandered and Sullied", begins with a repetitive beat with a cycle which is somehow both monotonous and erratic - as it careens round and round, it seems to falter and continually threaten to derail, but never does. It eddies along with an airy surface layer of crisp noise that carries it along. At first it feels as though the layer is a background aura that the rhythm cycles around within but as we slowly progress it feels more and more like the layer is resultant rather than fundamental. Also following the slow progression are occasional scrapes and blips that seem to exist wholly outside of this sonic atmosphere, as though this soft noise and its rhythm entwined play in an acoustic space where the snapping of wood or the sparking of electricity crash into earshot unexpectedly. It makes for some really interesting imagery. As the rhythm pulses on the ear seems to notice slight differences, but it becomes hard to tell whether these differences are really there - just as with HNW, repetition pushes the listener into a hypnotic trance where the true nature of the audio itself comes into question. As is often the case, the ambiguousness this presents me with is more intriguing than it is dumb-founding and makes for very interesting listening. There is something present that makes me feel as though I'm listening to a weird amorphous amalgam of very ambient, minimal deep house and subtle static minimalism akin to dead air radio noise. The combination is flawless and when the track comes to a tumbling halt after the eleven minute mark I immediately miss the sound-stupor I was in.

Side B, "Lost and Lasting", pelts the listener with a deep, bassy and slower rhythm that is more liberally smothered with sinewy crackle and lapping shreds of static residue here and there - while a soft and airy high-end hum whines itself into the back of the head endlessly until the listener has totally forgotten its presence. Having devoured the first side, the listener feels informed enough to assume that this track will take us through a similar process - one in which the wall and rhythm appear to do combat but might in fact be left to their own devices. One where the process of decay and degradation seem to transform the audio over a long period of time (although, admittedly the smallest long period you would require for such a feat, I imagine, as any smaller could hardly be called long) but may in fact not - the listeners act of listening is pointed at but not necessarily emphasised in these tracks. Both tracks feel as though they are 'experiments' that test the waters of combining lethargic and repetitive rhythms with hypnotic ambient noise wall - an attempt to see how each fairs in the others embrace and perhaps also an attempt to see if those who appreciate just one but not the other could be turned.

Personally, I feel I am a listener who can appreciate both and, thanks to this release among others, I am very ready to suggest that in more cases than not the combination of the two provides positive results. If I had one negative criticism about this release it would be that the tracks felt too small for all their meditative and droning qualities - only a few minutes in they would succeed in evoking trance-like immersion, only for that to be taken away rather swiftly. On the other side of the coin, they are a little lengthy compared to most minimal deep house and other beat-driven music that you might say had a hand in 'informing' the rhythmic element of the release. This could understandbly be a bound the artist did not want to overstep too largely - I say this knowing full-well many may read and readily disagree, bringing to mind many longform minimal techno tracks in their defense, but I feel that I'm right in considering 7-9 minutes closer to the standard of these on average than the 11'minutes we have per track here on this album. I'm also ready to admit that perhaps my estimation is wrong as I'm sure I don't listen to as much longform beat-driven music as I could, although I have long held a soft spot for the more minimal, ambient and extended cousins to both house and techno.

There have been a number of projects to approach this sound that I've heard in the past, and the combination has always tended to win. A project which immediately comes to mind for its similarities in approach with this album would have to be Julien Skrobek's "Vagrant", which took static minimalism and ANW and weaved it delicately through crawling, sunken and monotonous 4/4 beats. Where Vagrant seemed more techno-oriented, there seems to be less obvious ties to any one derivative of electronic dance music present here on Verhalten's album and rather a more open-armed approach. I could not recommend this release more highly and I am excited to further explore this forward-thinking and thoughtful DIY label. Unfortunately the label appears to have long sold out of all fifteen in the limited edition of this release, hopefully we can look forward to a new batch from the label soon - and there are a small number of other releases still available from the label, including one from Verhalten. I was very happy to make these two new discoveries for this review, both the artist and the label, and look forward to delving further into their catalogues.






James Shearman