Abhor - Occulta religiO [Iron Bonehead Records - 2018]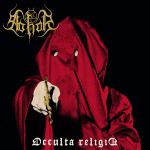 Occulta ReligiO is the seventh full length album from Italian black metal band Abhor. The band were formed in Northern Italy in 1995 releasing their first demo tape In Tuo Honori Preparatum in 1998, this signified the beginning of a long and varied career working with a variety of different labels. The band have even included the recording of a couple of covers from legendary countrymen Goblin (Non Ho Sonno and Deep Red) on their Vocat Spiritum Morti album. A deep connection with all things esoteric has informed their musical output and this is certainly the case with Occulta ReligiO.

Opening track Elemental Conjuring is a great way to get the album underway, the first things to note are that the production is solid, the vocals are good, and the whole track is underpinned by some wonderful organ. At 1.51 the track is very short but a good introduction to the album's sound. Fons Malorum is next, this track has a massive doom metal vibe to it, the riffs wouldn't sound out of place on a Candlemass track, and it crawls along at a pace more accustomed to doom metal. The vocals veer from good but typical harsh Black Metal vocals to clean chanted vocals and they work really well. The juxtaposition of the two styles seem to complement each other rather than rub up against one another. There is also a hint of later period Satyricon and Dark Throne, something which seems to work well for Abhor. Under all of this we are again treated to that wonderful organ sound, that just seems to underpin the whole thing perfectly. Engraved Formulas is more of the same great blackened doom metal,and it is again underpinned by that trademark organ. It is almost as if Dr Phibes had decided to form a Blackened Occult Doom Metal band.

Demons Forged from the Smoke is up next. This one reminds me of the drone doom supergroup Teeth of Lions Rule the Divine at certain points, but when it picks up the pace it heads in an altogether different direction. Once again we hear some of those great chanted vocals that punctuate the album throughout, however this particular track has a brutality that is not heard anywhere else on the album. Interestingly, this is one of the few tracks to not feature that now trademark organ sound, and they were right to leave it out of this one. Exemplum Satanicus has a real pure Black Metal feel to it before it shifts back towards doom metal around 2 minutes in. More of those great chanted vocals fight with the harsher extreme vocals for primacy in another good solid track. Black Bat Recalls is the album's penultimate track and whilst slow it feels more like a Black Metal tune than a doom one. Slow Black Metal riffs and the return of that organ give it a full on Occult flavour. There is a hint of early Bathory in this one, especially in the vocal department. Title track Occulta ReligiO is the album's final fling. This one features everything we love about the album, those guitar riffs, the vocals (both clean chanted and harsh), that organ, and some epic sounding Black Metal.

Overall, Occulta ReligiO is an excellent slab of Blackened Occult Doom Metal drawing influence from a diverse group of bands including Satyricon, Bathory, Dark Throne, Teeth of Lions Rule the Divine, Candlemass, and Khanate. Italian prog/proto metal legends Jacula are also in there, that wonderful organ sound is reminiscent of their two classic albums. If you like your Black Metal doomy, or your Doom metal blackened then this one is definitely for you.






Darren Charles