Valvan - Church of Still [Self Release - 2017]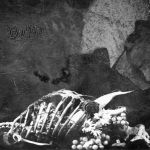 'Church of Still' is a digital HNW release from the Ohio-based project Valvan. The release takes in a single wall clocking in at 42'25.

While I am quite aware this is a very rare review for the site, to take an entirely digital release as its subject, I appreciate that the rare occasion does occur as I have many personal ties to the world of netlabels, both as they pertain to the broad experimental realm and the more insular realm of HNW. For a bit of personal history, I took over the curatorial role for the 'HNW netlabel', founded by Social Drift, around mid 2015 and have attempted to engage in and build the online 'digital' community of HNW since. I have hoped to use this vehicle as a catalyst and showcase for international artists in the HNW field, both little-known and revered. Needless to say my individual relationship with netlabels and the digital culture of HNW is something I regard to be quite significant. I am always interested in challenging pre-conceived notions of netlabels and digital releasing as I am aware the dichotomy between the digital and physical is often presented as antagonistic rather than harmonious, which is something I prefer to confront.

Valvan was a fresh face in the HNW world in early 2017 and has since bolstered a prolifically growing catalogue, often attempting to put out a release a day or at least multiple in the span of a week. While these kinds of personal creative challenges can often stretch an artist too thin, it has honestly astounded me how much the Valvan project has managed to adhere to a strict standard in spite of the sheer amount of HNW produced in a short time-frame. Although with this said, I'm not sure I could honestly say how much this adherence persists as I'm sure there is at least three quarters of the projects work I am still yet to hear. There are, of course, many HNW artists who are well-known for such wedding of prolific releasing with an attention to quality - names such as Sleep Column, Wallmaster and The Ebony Tower spring to mind quickly. It is easy to see how this relatively new waller could have taken such projects as prime influence for how they approach working within the genre - attempting to throw a careful balance between quantity and quality.

The release opens with a sample from what I believe to be a film, I couldn't say which film but as I've said before I tend to enjoy the anonymity of samples rather than ask the artist before I've had chance to fully soak in the wallcraft that follows. The characters speak in English and the dialogue is between two men and a woman - one man is threatening the woman telling her he's going to "send her pretty fingers to her man" and she proceeds to faint, this man seems to hold authority over the other man. Both speak as though they were stereotypical film gangsters - the sample audio sounds old with a distinct 'crackling', so I imagine this to be quite an old source, possibly an early black and white talkie. An ominous music fades in as the dialogue ends and slowly the sputtering 'crackle' of the film audio morphs into a feathery, fiery trundle of crackling and bubbling-over bass hum. While I have heard many maximalist walls from this project, and was half-expecting such a type of wall in this release, this is instead a release that is best enjoyed at very high volume for the very reason that it is more minimal - with textures and the hidden weight of the bass escaping a listener who decides to listen at a cautionary low level. The louder you get with this wall the more rewards you reap - textures take on more echoing, sonourous beauty and the wall almost seems to be made up of very energetic field recording half-buried within the crackling licks. This could easily in fact be more film audio in the form of 'foley', rather than field recording, but as with all meticulously layered textural HNW, it is hard to tell for sure and the ambiguity is what lends the wall its peculiar and enchanting qualities that really bring it into its own as the wall progresses.

Occasionally the trance-like immersion the wall offers the listener pushes the listener back into the sounds themselves and out of their own head - a slow and sombre 'time-stretched'-sounding groan creeks out of the static flames and the listener is forced to feel emotion and imagine imagery rather than completely zone out. The wall is imbued with a heavy and dense atmosphere here, not from the immersive low-end trundle or the lapping and licking textural play, but the haunting and melancholy layers of ambient sound that are at times half-buried, at others perfectly nestled within. It is interesting to note the album artwork here too - it seems specifically designed to convey a particular atmosphere - a grey-tone black and white of various leathery and stone-like textures with an assortment of objects in the foreground. A variety of flowers and what appear to be either beads or grapes are nestled within what appears to be a rib cage. The project name is woven into the leathery, creased textures above but there is no captioning of the album/track title itself. Overall, the artwork seems to want the listener to prepare for the macabre - but while death is invoked it is less the grotesque realism of gore and more its sullen and sombre picturesque severity and starkness that is meant to stay with you. These connotations tie perfectly with the experience of the sound as it laps over you in waves, slowly even the atmospheric dispersal of ambient sound moving in and out of the static folds is not enough to loosen the listeners grip on immersion. It is then that the experience is truly like being carried away at sea, drifting in an ebbing motion - the rasping crackle like a hypnotic rainstorm. As you start to approach the walls end, I like to liken the experience to being trapped in a dream - one which is at once blissful but also unnerving in a creepingly undefinable manner.

Overall, I loved this release and I think it stands up as a great example of quality wallcraft, it holds a dual grip on the listener with its texture and atmosphere in a way that is perfectly complimentary. In my personal opinion, while I relish the chance to discover quality HNW digitally, and am very appreciative of the ways in which the digital platform can help an artist that the physical cannot (and vice versa, for that matter) - I do believe a release like this deserves to "escape" the digital realm and find itself a physical release. It may well be that it suffers for being buried amongst such an avalanche of HNW that the projects discography presents the weary listener and potentially interested label-head - of course, as with any HNW release, the option to go the DIY route screams out as a too easily forgotten alternative for the artist who is unwilling to compramise themselves and make their work 'enticing' to others but also wants their audience to experience a physical connection and sentimality towards it that only the physical medium can offer.






James Shearman