Malditos - Malditos II: La Réve [Svart Records - 2018]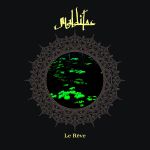 Hailing from the home of the Bay Area funk scene Oakland, California, Malditos are a fairly unique sounding quartet, that describe themselves as "dark-zone desert psych". They came together in 2011, releasing their self-titled debut album a year later on their own "Alchemy Coffin" label. Since then they've had a couple of single or EP releases, but this is only their second full length album.

Opening track Azadeh sets the bar pretty high, Eastern rhythms intermingle with rock guitar, whilst tablas take the place normally reserved for the humble rock drum kit. The whole thing has a slightly off kilter Eastern mystical vibe to it that is made even more surreal by the fact so many of the band's lyrics are sung in French. The track has a constant undercurrent of heavily distorted guitar noise running right through it, in fact this seems to be in evidence across most of the album and works to give the whole thing a dark ambient sensibility. Le Passage is up next and it is immediately evident that those same Eastern flavours persevere, the vocals have an ethereal quality to them and again there is more than a whiff of incense floating gently on the breeze, as we delve headlong into Eastern mysticism and spirituality. Impeccably played psychedelic rock by excellent musicians, this is definitely my kind of thing.
Disparu is the third track and the album's centrepiece, building slowly the track has an entrancing hypnotic beat, and there is a creeping menace about it that recalls the music of Chelsea Wolfe in places. There is also a real kosmische vibe that permeates throughout the track, hints of Faust and Sergius Golowin mingle with eastern spiritualism, and the aforementioned Chelsea Wolfe. The band's dark, haunted melodies and hypnotic qualities get under the skin of the listener, drawing you deeper into their brand of darkness.


Momen is up next, opening with more hypnotic drum beats, the track has an almost MDMA style ability to make you sway and move. A minimal guitar track with a distinctly shoegaze style tone, and an almost gothic mournfulness hints at dark otherworldly freak-outs taking place just beyond our reach. Throughout the track there is a constant feeling of malevolence that seems to derive from the droning undercurrent that lies just beneath the song's surface. The title track La Réve closes the album, and at just shy of ten minutes long it feels like the album's epic final flourish. More eastern flavoured guitar and keyboard lines get things underway, around a minute and a half in things suddenly kick up a notch with the introduction of tablas. Trance-like rhythms grow, and pulse as the song gently winds its way towards the mid-point at which a heavier guitar tone is introduced, as guitar drones ebb and flow, crashing against the imagined constraints of the band's sound, not that there are many constraints to their sound. They are able to really play with sound, stretching out and delving into a wide and varied pot of influences.


Overall, this is a fascinating eastern flavoured psychedelic rock record, with more than a nod to the spirit of Chelsea Wolfe, and the Gods of Kosmische space rock. As mentioned earlier the band have really developed their own take on psychedelia and are to be applauded for not merely following the pack. This really is superb stuff, and if you love the eastern flavoured psychedelic music of early 1970s Britain and Germany, then this one may hold an interest for you, albeit with its own brave take on it.






Darren Charles