Satanic Warmaster - We Are the Worms That Crawl on the Broken Wings o [Werewolf Records - 2018]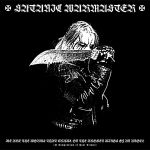 Satanic warmaster are a one-man black metal band from Lappeenranta in Finland. The project was instigated in 1998 by "Werewolf" the band's only mainstay during their 20 years of existence. Other musicians have dropped in to help him out during that time, but he remains the only actual member of the band. The band's lyrical content focuses heavily on folklore and Satanism, and despite claims from some quarters Werewolf maintains that his beliefs are not in line with those of the NSBM. The band have had an incredible amount of success in their native Finland even reaching the top ten in the album charts. Five full length albums and a slew of EPs means the band have a huge back catalogue from which to draw, and this particular album as can be seen from its subtitle is A Compendium of Past Crimes, or a compilation of material from the band's split EPs.

The opening track "Satan's Race" is raw traditional sounding Black Metal, and as with most raw Black Metal it sounds like it was recorded inside a tin bath, not that, that is a bad thing as I think its rawness lends it an air of authenticity, that same DIY ethos that much of the classic early Black Metal had. To me raw Black Metal sounds much more dangerous and true to its roots than the overproduced commercial Black Metal of bands like Dimmu Borgir, but that is besides the point here. There is an honesty to Satanic Warmaster, you get what you see, raw, satanic Black Metal. From the scuzzy black n roll of March of the Legion of Werewolves, to the raw brutality of "Black Metal Death" this album rarely lets up during its 75 minute rampage. "A Hymn for the Black Empire" does briefly present a different side to the band, more melodic but still far from the polished sound of a lot of modern Black Metal. It does however represent a fairly seismic shift in style from the noisier blast beat infused material on the album. The rawness of Werewolf's vocals makes for a very uncomfortable listen throughout but also keep it rooted firmly in the traditional end of the Black Metal scene. No softer overproduced vocals here, just pure pitch-black screams of pain and suffering. "Burning Eyes of the Werewolf" stands out for its acoustic setup, it's not often we hear Black Metal stripped back to acoustic instruments, and whilst it obviously dampens the sheer brutality of the piece it still remains a fairly intense sonic experience. It certainly doesn't feel as though it is diluted in any way.


"The Majesty of Wampyric Blood" is probably the most accessible track here, however it is still a fairly intense musical experience. There is an early Bathory influence throughout the album that works for me, however one can hear hints of Dark Throne and a variety of the other early proponents of the Black Metal scene.


Overall the music is raw, brutal Black Metal played by a man who really does mean it, it's a lifestyle not just a musical project. Whatever anyone thinks of Satanic Warmaster and Werewolf himself, you cannot deny his ability to marry the brutal, pitch black nature of what he does with a successful career in his native Finland. Much of the material on the album has a real Black n Roll vibe that links it more to punk rock than to heavy metal, much like Dark Throne and Bathory themselves. This is an interesting and worthwhile compilation of material , that works well as a primer for the band's material. As such it perhaps lacks a little bit of coherence, many Black Metal albums have a central theme that runs throughout and kind of pulls the album together, however with this being a compilation that coherence is missing. Still it makes for a good place to start for those interested in hearing more from the band.






Darren Charles