Octopus - Supernatural Alliance [Rise Above Records - 2018]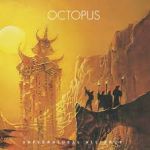 Octopus are the soon to be crowned overlords of Detroit doom metal. Their sound is a unique amalgam of psychedelic doom, classic NWOBHM and progressive rock. Freshly signed to Rise Above Records this is their debut release, formed in 2008 by guitarist J. Frezzato, and vocalist Masha Marjieh the band have taken ten years to hone their craft which is why this debut record is so damn good. Not many bands can mix up the influences the way these guys do without sounding like a pastiche, these guys can. The lineup is completed by bassist Matt O'Brien, drummer Chuck Burns and keyboard wizard Adam Cox.


The album opens with the track 'Beyond the Centre' and the first thing that enters your head is Angel Witch with Burke Shelley on vocals. A real dark metal anthem shot through with some really heavy Uriah Heep style organ. Despite all of this the key is that the song is beautifully crafted and every bit as good as those bands it references, whilst at the same time it retains something of itself, a neat trick if you can do it. Title track Supernatural Alliance is up next, and wah wah pedals at the ready, this one has a really progressive groove to it. What I love about this band is that the keyboard, often maligned in rock and metal as something of a backing instrument is allowed to take centre stage at times and the band really benefit from this fairly progressive move. It gives them a unique selling point and one that I hope continues. Slave and Master is a slower bluesy number, a guitar and organ riff-fest. One thing that hit me at this point is that they have a distinctly British sound, Uriah Heep, Angel Witch and Deep Purple are all floating around in my mind whilst I listen to this one. Strike (While the Iron Is Hot) has a big 80s metal chorus that bombards the listeners ears in a good way. Rather interestingly for a metal track it has a brief but perfectly formed keyboard solo, something that rarely registers on the scale, but after listening to this it should more often. It's a refreshing idea and one I'd like to see adopted more often. Child of Destiny follows in a similar vein to Strike, this is not a bad thing as all of the songs are so well crafted. Loads more keyboards on this one, and by this point I've decided they are on a mission to reclaim the keyboard as a metal instrument. It seems to be working.


The second half of the album kicks off with The Unknown, a crawling behemoth of heavy doom metal. There is a slight early Soundgarden vibe to this one, a distinct Eastern flavour that reminds me of the Ultramega OK era. This may well be my favourite track, it has a darker and heavier vibe than the previous tracks and really drives it home. The Sword and the Stone is a classic metal anthem, which has a definite Judas Priest influence which is evident from the opening verse, which reminds me of You've Got Another Thing Coming. However, the track still has enough of its own thing going on too, and there is a definite prog rock element to the sound of this one. Fleetwood Mac takes us down a notch, a really quiet opening, all lilting keyboards and odd stabs of liquid guitar usher in a track reminiscent of Black sabbath's classic Planet Caravan, by the time we reach the halfway point and the big riff kicks in I'm already completely hooked. The guitar solo is a melting pot of wah wah and technical brilliance. This is the sort of record that doesn't come along too often. Black Dynamite is up next, this one is a big anthemic number that I can see going down a storm live, and becoming a bit of a fan favourite. A killer guitar tone ushers in one of the best guitar solos I've heard in a while, this album is a real tour de force of excellent musicianship and great songs. Final tracks Dragonland is an uptempo rocker, and actually between this and Black Dynamite there is a hint of the Black Rebel Motorcycle Club about them, but better if you know what I mean.


Overall, this is a great debut album, it has everything I look for great songs, excellent musicianship, a vibe that is all its own but one that you can still hear the band's influences. It's heavy and packed with immensely hooky rock anthems, exactly what the rock and metal scene seems to lack today. A definite contender for my album of the year. I really look forward to seeing where they go after this. It could be all the way to the top.






Darren Charles