N.I.H.L. - Harsh Times [Geräuschmanufaktur - 2016]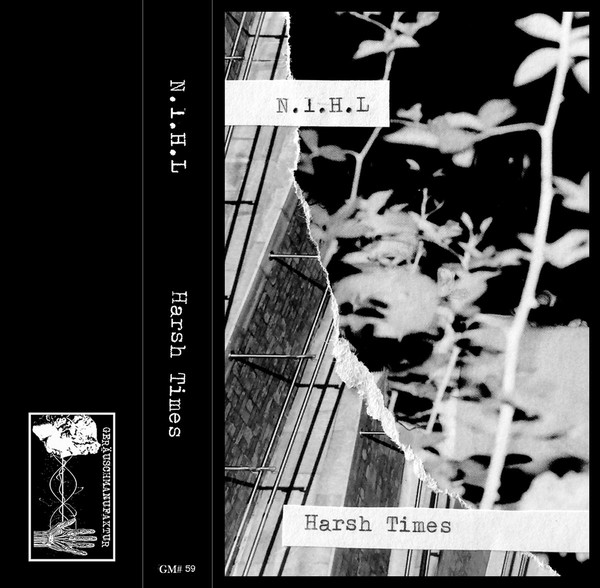 The album 'Harsh Times' by N.I.H.L. came out on the Geräuschmanufaktur label in mid-2016. The German label, run by Jan Warnke of such inimitable projects as Sacred Climax and J.Adolphe, has been reviewed here before and given the due respect and appreciation it deserves. This album is the only release to date from the project, the initials of which stand for 'Noise Induced Hearing Loss'. The title of the project gives us a fairly good glimpse into what we can expect from the release.

It was, at the time, a fresh and new endeavour from the creative, noise-addled mind of Nemanja Nikolic, a Serbian experimental artist who is known within the HNW community for his work with the project Dosis Letalis, among others, and for having collaborated with many heavy-hitters of the scene - producing lusciously vibrant hybridisations of HNW form in every instance. He has also conducted an extremely illuminating interview here on this site about his artistic process and how he sees the world of noise and HNW and its changing shapes and colours - I highly recommend the read. With the N.I.H.L. project, Nemanja was hoping to explore the firm ground of the broader 'harsh noise' subgenre, having spent a while basking in the sun of it's minimal cousin, HNW. He approaches this change in direction with the steady hand we heard carefully plotting the course of his walls - much of the harsh noise, while it is fairly dynamic, vaulting and screaming at the listener in tumultuous turns, seems to bear an uncanny resemblance to its longform wall brethren among Nemanja's discography.

The cassette comes with a beautiful black and white collage artwork by the labelhead Jan, the cassette itself comes in a black shell with a white sticker label pronouncing the project and album title on the side A - stickerless on side B. The inlay has a simple black and white tracklisting which outlines that there are four tracks which make up this album - all of which are essentially untitled, or eponymous, since they are Roman numerals. The release comes as a C30, with the first track clocking just under seven minutes, the second just over eight - and the last two falling fairly neatly under seven and a half. It is very easy to consinder each track an "instalment" of something which feels as though it is meant to be considered a whole comprised of parts.

In the first track we are taken through a blistering maelstrom that seems to scream incessantly and yet also crawl at a slug-like pace. The crashing of much of the distortion feels very much like the natural clipping of a large carrier jet - as though you were standing right below the engine at take-off. Moving on to the second track, we feel very much immersed in the same atmosphere as before - within the smothered, deafening chaos of this sound we hear the synthetic moans and pangs of .. "something" lurch out at us from within. There is something powerful and forceful about the new ways this track grabs out at you from the belly of a slow-moving beast.

Flipping over to Side B we are confronted with a much more mechanistic and churning rhythm, nonetheless similarly caked in a beautifully crisp distortion which approaches a realistic and natural quality it is hard to put your finger on. Eventully this rhythm is swallowed up by a large gasping pool of static, for a time we are confronted with what sounds like HNW, and as a seasoned listener I can't helpn but imagine this process of harsh noise exploration being one of the many ways the artist might arrive at the perfect settings for his wallcraft. Eventually the chaotic movement returns, but this time in a much more arhythmic manner - in place of churning we have squirming - and of course, incessant screaming - but a screaming which continues to be almost completely drowned out by the weight of the noise it is contained in. For a brief moment I feel like I am able to discern an actually hidden and buried melodic source material beneath the swathes and swathes of static chaos.

In the fourth and last track we hear the definite pining, whistling tones of synthetic melody creeping out at us through the seething mist and fog of a dense static sprawl. Tones dance with eachother in the shadows of this monstrous static, and the static in turn seems to shudder and judder as though it were performing the mimicry of a shadow image of these sounds - at once smothering and echoing them. Various changes in tonal quality push us through shifts and turns in the mess, equalisation here seems to play a key role in determining the course of the noise soup. There are moments, once more, where I feel totally lost and as though we might have come all this way, to this point, to reach this zenith and stay here, unfaultering at this sound's constancy as HNW -- only for the such moments to be cruelly snatched from under my feet. Each track here is perfectly timed - they feel neither too long nor too short and although they scrape along the inside of my skull as I listen, as they end I find myself craving for more.

Without a doubt, Nemanja and Jan knocked it right out of the park once again with this one. I was most certainly a fool not to have picked this up closer to it's release date back in 2016 and I cannot recommend it enough to those who are into both their HNW and the broader realm of harsh noise. As an artist who has shown us a meticulous ear for wall, there is a fairly slow pace to this harsh noise and so it feels as though it retains much of the artistic approach we saw in his wall output, in spite of advancing away from it's outright minimalism. The harsh noise here never moves as far away from wall as, say, cut-up noise or japanoise - but greets us with enough hidden synthetic melody and surprising and experimental uses of dynamic to really capture the imagination of the listener. For me, it helps me imagine how truly useful cultivating a taste for HNW specifically can be in the overall production of all of the diverse forms we encounter within the harsh noise umbrella. There are still copies available from the label bandcamp page - in a limited edition of 30 copies, I would advise swiftness in listeners hoping to acquire this release!






James Shearman