Talibam! - Endgame of the Anthropocene [ESP Disk - 2017]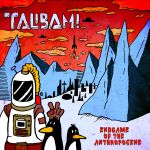 Talibam describe themselves as Dadaist provocateurs with an innate love for the history of music. Talibam! grew out of the New York avant garde/improv scene and have two members Matt Mottel and Kevin Shea. Stretching out from basic musical concepts Talibam! explore sound and structure to create something interesting and unique that lies beyond classification. "Endgame of the Anthropocene" is their latest in a long line of releases spanning the last 11 years and apart from being a wonderful title, it is a record cramp packed with possibilities and ideas.

Opening track Antarctica Shall Be Used for Peaceful Purposes Only (Article 1) is the longest track on the album. Melding dance music with layers of samples and synth sounds creates something that is not easily definable. Stark sounding synth drums mix with an array of different bleeps and the sound of laser blasts. It all appears to work reasonably well, at several points the track becomes infected with jazz funk samples that strangely work, despite making the whole thing seem overly busy. It's a strange off kilter musical listening experience that feels like it shouldn't work but it bizarrely does on certain levels. Human Interference and the Failure to Ratify is up next and whilst being a little more pared back to begin with works well. A great bassline forms the backbone of the track driving it forward and headlong into some pretty strange and glitchy sounding synth work. Reign of Primordial tenure on the Ice Shift is a song of two halves. The first of which is a danceable uptempo tune that feels a little less avant garde in its approach, the second half strips the sound right back to the bare bones some basic synth lines and percussion with little of anything very much going on, juxtaposing the the fuller sound of the first half of the track. The Telegenic Annexation of Territorial Expanse in the West is a short 2 minute track that represents for me one of the most regular sounding tracks on the album. A driving electronic beat marches across various electronic squeals and laser blasts for the tracks duration, straight forward electronic music that fits despite the more experimental nature of the rest of the album.


The second half of the album begins with Obsequious Resources Duly Exploited De Novo, and almost feels like a response to the more tradition structure of the previous track. Weird electronic dance beats mix with drones, glitchy synth sounds and various samples creating what for me is one of the more unusual and interesting tracks on the album. Breach of Ecology on the Seabed (Biodiversity in Shambles) is up next and keeps its feet firmly planted in the strange dance category, short at less than two minutes it feels more like an interlude between tracks than anything else. This is followed by the epically monikered Cost-Effective Drilling Enabled by Pioneering Technologies and Warmer Climates in the Southern Ocean, one can't help but feel that these amazing song titles prepare you for the off-kilter madness contained within them. Rise of the Defenders of Antarctica rounds out the album and is one of the more traditional sounding tracks within its confines. A series of funky horn samples giving it a cool vibe before the track winds down with some droid style bleeps and bloops.


Overall this is a hard record to review, I like it despite its overreliance on samples and odd musical textures. There is a weird almost funky element to much of it and the Star Wars noises add a little bit of fun to the proceedings. I can also certainly get a sense of their Dadaist leanings, there is an almost childish absurdity to some of the material, and their lack of interest in musical borders fits with Dadaist ideals. It's also refreshing to hear music that isn't keen on being pigeonholed and stands on its own two feet sticking two fingers up at the genre police.






Darren Charles