Abstructum - Abstructum [Nihilist Recordings - 2017]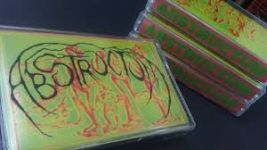 Abstructum is a new project consisting of members Andy Ortmann and Hanna Elliott (Hogg). Their self-titled debut shows the project dabbling in a few different styles, from post-industrial to musique concrète to near sea shanties and folk jazz. An interesting debut with fun electronic flourishes, Abstructum makes the most of its abbreviated run time and is a decidedly different approach than the members' previous projects would suggest.

Opening brightly with a waterphone, the intro to Abstructum takes a different tone and goes into a low and ritualistic dark ambient number. Unfortunately brief, Abstructum really seems comfortable with this type of material. No matter, as "Masochistic Abuse Martyrdom" chugs forth with a grim, electronic industrialism that is part groove, part killer machine. The heavily flanged vocals hearken to Steel Hook Prostheses while the tune feels like the score to The Terminator. Jumping from predatory robots to a life on the sea, "Crowley's Slave" brings the listener into a pirate themed funhouse, complete with screams of those being tortured. That fun little respite is brief, though, and "Asphyxiating Culture" smashes forth with it's concrete glass shattering over crawling synths. Heavily affected spoken word samples make the basis for "God Entered My body." On top of this, synthy, percussive bits team up with higher synth claps for a loose, free form electronic number. "Poison Clouds" sees Abstructum return to a more ambient beginning before switching it up and adding electronic mayhem to the mix. "Demolishing Bodies" thins the mix out with a sparse mix of percussion, electronics, and distant vocals. Haunting and psychedelic, Abstructum really feels at home with this track. Hearkening back to "Masochistic," "Auto-Erotic Fatality" returns to Technoir for some more synthy, robotic fun. Slowing it down to a crawl with some folky, jazziness, "Our Lady of Sarcasm" brings it back to a natural feel before heading back into an electronic world on "Finalis Chaos." Constant drums are the focus here, with the sweeping electronics and distant vocals filling in the mix.

Interesting electronics and near dance numbers make up the majority of Abstructum's self-titled debut. Working in various forms of experimental expression, the duo keep their short album lively and fluid.






Paul Casey