Katatonia - Last Fair Deal Gone Down [Peaceville - 2001]We're deep down in dirt this time. Since the '96 album Brave Murder Day, Katatonia have thrown away an increasing number of their doom metal roots in favour of a more melodic hard rock-ish approach. This doesn't make the music more happy-go-lucky, however... on the contrary. The follow-up EP Sounds Of Decay and the full length album Discouraged Ones (where the new style REALLY began to shine through) were true masterpieces, and later came Tonight's Decision, which - although more simple in expression and lacking a bit of longevity - was quite good too. So now it is time for the next in line.LFDGD is gloomy. Damp. Depressive. Colourless. Distant. Yes, it has all the qualities a Katatonia album should possess.Well, then, what are the raw facts about this one? Renkse and Nystrøm have these last years said about every new album: "Yeah, well, this is going to be even more Jeff Buckley/The Cure-inspired than the one before." And this is in part true. So, where does LFDGD differ from the rest: is it softer? Well, yes. It doesn't have the few doom metal traces that were still clinging on to Discouraged Ones, and it doesn't have much of the power chords appearing on Tonight's Decision. What it does have is atmosphere. And on that point, it puts itself between the two previous albums. There are poppy songs - like "Sweet Nurse" - and there are dead-on songs - like the ingenious "Chrome". The general attitude, however, is cold and deserted. This concept works very well with the latter releases - and the booklet and lyrics join in on that account.My reference Katatonia disc is still Discouraged Ones. It is their single most gloomy and melancholic work to date. This one, although not in Discouraged Ones' league, is still better than Tonight's Decision, and is thus a step forward.Forward into hopelessness.






Jacob Avlund




Katatonia - Last Fair Deal Gone Down
We're deep down in dirt this time.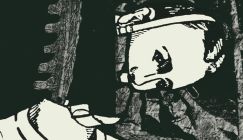 Hastings of Malawi - Deliriously ...
Formed in the early 1980s, after the member's sonic dabbling's on the early Nurse With Wound records, Hastings Of Malawi took a decidedly busy and deta...