Aidan Baker/ Simon Goff/ Thor Harris - No Place [Gizeh Records - 2017]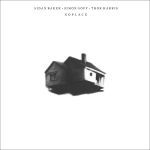 Baker, Goff and Harris are long time friends and collaborators on one another's projects, however this is the first time they have come together in this way as a trio. They trio are all seasoned professionals Baker having played with Nadja and others, Goff as a member of Molecular and Bee and Flower, and Harris, a member of industrial legends Swans and various other projects. The album was recorded in Berlin at Redrum studios on May 7th, 2017, in an improvised session lasting no more than a few hours.

Opening track Noplace I, begins with some gentle, hypnotic Jaki Liebezeit style drumming as other instruments are gradually fed into the mix. This is a beautiful ambient piece that centres around those hypnotic drums. Noplace II is up next and takes things down a notch or two, the motorik beats of the first part are gone and there is a greater emphasis on avant garde scratching and scraping sounds, but the piece is held together with electronic drones and strings. Very atmospheric, the track relies heavily on a simple hi-hat to keep things ticking over. Red Robin sees the return of the motorik beats, and the ensuing psychedelic/ krautrock jam is something very beautiful and would not sound out of place on a Can record. The quality remains high and the whole thing works beautifully. Noplace III hints at more ambient influences, the whole thing is built around some quite sumptuous keys that float off into the ether, while the other instruments casually vie for attention. The whole thing feels quite meditational in tone.


Tin Chapel kicks off the second half of the album, with more of those hypnotic Can style beats, guitars and strings weave in and out of Orb style synth lines as they battle for supremacy. The track builds over the sum of its 7 minutes. Northplace opens with a Carpenteresque synth line, the hypnotic drums return and we are instantly transported back into Can territory. The synth lines are heavier here and there is an urgency to the sound, the guitars are more pronounced and the whole thing feels darker and more strained, as if ready to burst into some more frenzied. This sensation builds as the track reaches its crescendo before falling away at the death. Final track Nighplace takes things back down again, the drumming reminiscent of some of the finer Americana, and played with brushes to keep the whole chilled vibe alive, as strings and guitars swirl around. The second half of the track sees the addition of some fuzzed sounding guitars, that immediately start to take things up as more layers of sound give a bigger sound to the proceedings for the final flourish before falling away again and fading out altogether.


This is a beautiful and seductive album that draws you in, initiating you into its unique brand of pulsating, atmospheric, psychedelia. There is a massive krautrock vibe to it, the Jaki Liebeziet style drumming is obviously a massive part of that and the whole thing flows effortlessly across its 45 minutes running time. It's hard to believe this was recorded in a matter of hours, it really feels like something that took months to grow and evolve into the final product. Noplace is a remarkable record that left me feeling relaxed and hypnotise me with its metronomic quality.






Darren Charles