Phantom Cadaver - House Of The Decrepit [Cuboid Slab Gallery - 2015]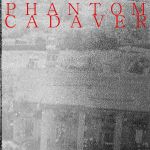 Hereís a tape from Phantom Cadaver, presented in suitably sombre grey tones, with red titling. The front cover features a washed out photograph of a house, and thatís really all there is to say! Side A has four tracks, whilst B has two, however, in practical terms itís rather hard to tell where one track might end, and the next start. The material is homogenous, though, and itís therefore easy to see the pieces as larger wholes, rather than needing to worry over track divisions. Both sides are unmistakably HNW.

The tape begins with stereo split fizz, streaming through the speakers at quite a speed, without being savage. Both walls are crunchy, and thereís a drone buried within the layers too. After a few minutes, this all breaks down to reveal a hard, low rumble, before the fizzing textures burst back in again. After this, thereís a long passage where the two walls become unbalanced, unmatched, build in intensity, settle down to a crawl, then again explode into agitated fizz. This pattern is then explored. So, you can see that itís not rigorously static wall noise, but at the same time it is indeed ruthlessly concentrated, rarely wandering too far from its starting point. Later, the wall cuts to almost plastic textures, before bursting into wet, crackling, life - which, after a short while, and a little jump, is decimated by a much stronger, harder wall. Again, it ploughs through both speakers separately, each side building or dropping slightly - even cutting out at points. Itís akin to a fast, fire crackling, with a blown out, dull wash lurking beneath. After paring back to a restrained blizzard texture, the side ends with a low, somewhat unappealing, noisy line, but itís garnished with very nice pops.


Side B opens with a tortured, hard crawl, with the textures compressed, and squeezed. It presses in waves, itís grubby and reverbed, and itís very nice. After a while, more agitated, higher pitched chunks push through, into the reverb, until the whole wall breaks further open. The textures now become hollowed out, and faltering, almost vocalising - but still dirty. A more sedate passage follows, dominated by the low, crawling crumble, but trailing light dirt behind it. After a brief, curious cut to a wobbling tone, the speakers fill out with large, fizzing walls, which build into a speeding, tumbling, rush of noise. This cuts, and the journey is done.


This is another great release from Phantom Cadaver, resolutely pursuing wall noise, whilst simultaneously pushing and pulling the genre. There are a few sections which do little for me, but the vast bulk of the material is constantly engaging. Itís particularly impressive how the material wanders, and explores, without ever fundamentally changing - it has a good sense of its own boundaries, and potential.






Martin P