George Cremaschi, Irene Kepl, Petr Vrba - Resonators [Another Timbre - 2016]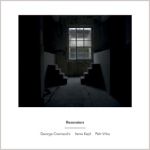 Here's another release from the ever dependable Another Timbre, arriving in a sombre white, card wallet, adorned with a cryptically beautiful photograph of a windowed room. The album has four tracks, two longer pieces which outlast 13 minutes, and two shorter, at four and six minutes. The trio divide up thusly: Cremaschi on double bass, Kepl on violin, and Vrba on trumpet and clarinet. Each also plays the mysterious 'and electronics' - it would be nice to have these devices or set-ups further elaborated, but they do remain a mystery. The tracks were recorded in a monastery, and hall, both in Czech Republic, so (as is often a feature of Another Timbre releases) we are listening to the space as much as to the musicians.

The first piece, Affective Labor, credited to Cremaschi, is a monstrous start to the album. It's 13 minutes of drifting - yet strong - feedback, drones, and hums, with the acoustic instruments poking through from time to time. The beautifully blurry bass drones, and arcing lines of feedback, border on noisiness at points. It's really not that far from an incredibly complex and deep piece of dark ambient music. Around the ten minute mark, the work explodes with outbursts of chirruping clarinet, and strong violin, before dissipating just as quickly. Whilst there is a general sense of purity, and 'cleanliness' about the overall sound, throughout the piece there are background noises and thuds, which stop it from becoming sterile. Soma, the second track - credited to Kepl - begins quite differently, with smaller, more articulate sounds and playing. However, soon enough, large bassy monoliths appear. It's a much more shifting, dynamic work than Affective Labor, with distinct sections and separated ideas. It jumps from quiet to loud in seconds, and for the most part maintains a violence, without recourse to simple noise - often through frenzied or very hard scraping, or blowing.


The third track, Locus Resonatus (assigned to Vrba), is somewhat different from the start. Simple, long notes from the clarinet are slowly complimented and built upon, until a heavy classical drone is constructed. Built out of several interlocking layers, this rich and colourful piece seems to get progressively more and more intense. With straining, high violin notes, and almost martial trumpet calls, the track seems to be much more than the result of a mere three people. Complimenting this, is the fourth and final track, Pirol; it's the shortest effort at 4:08, and like Soma is credited to Irene Kepl. Like the aforementioned Soma, Pirol is a dynamic piece, that is perhaps less concerned with playing the performance space than Affective Labor. To put things another way, there is more emphasis on the musicians interacting with each other, rather than explicitly with the space they find themselves in - though, of course, the space is not removed from this equation. Pirol's most striking elements are the contrasting of straight, held trumpet notes with thuggish slams from the double bass - the latter punctuating the former with visceral abandon. Though the track also notably contains various micro-sounds, bubbling, scraping, and burbling.


This is a very fine set of recordings, which compliment each other very nicely, and in doing so cover a lot of ground. The trio really do dissolve into each other at points, creating a true sense of selfless, group playing. I must admit that whilst I really enjoyed the first track, Affective Labor (which, let's be clear, is quite staggering), I also suspected that the rest of the album might follow in it's footsteps - but Resonators doesn't. Instead, the remaining three pieces carve out different spaces and sound-worlds (though Soma and Pirol are undoubtedly similar), and show different sides of the grouping. A very recommended release.






Martin P