Jam Handy - Hidden Bone and Hidden Gristle [Audio Savant - 2005]Plunderphonics as a genre is rather mixed bag. It all depends on wit and clever use of your source material. Hidden Bone and Hidden Gristle Starts off promising with odd sample of woman complaining about a K-mart store, then a rather sinister child like melody sweeps in giving a nice feeling of ill at ease. Another highlight is a gonzo voiced re-reading (with a almost early Residents tone to it) of the woman's dialogue from the first track. Mixed with a male voice talking about jumping out of the bushes wearing a hat made of tin foil . But as the cd goes on it seem to loose my interest more and more, sure there's some nice ideas and some surprising samples like Alice Cooper's Clones (We're All), from the long forgotten 80's album Flush The Fashion.I think the whole problem is this seems to be Jam Handy's first work. And at the moment it just doesn't have the satirical and audio edge sharp enough to cut down to the bone. Never the less I do enjoy the air disquiet that fills the better tracks. In summing up, one to watch for. It's worth a look at Jamhandy which frankly is 'odd as elbows' and will have you mumbling "what the hell" ;-)






Roger Batty




Jam Handy - Hidden Bone and Hidde...
Plunderphonics as a genre is rather mixed bag. It all depends on wit and clever use of your source material.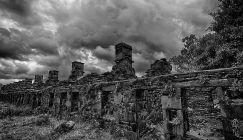 Llyn Y Cwn - Dark Elemental Ambience
One of the more original & distinctive dark ambient projects to appearing in the last few years is Llyn Y Cwn. The project takes it's influences from the...