Marek Poliks - Hull Treader [Another Timbre - 2016]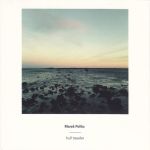 Another Timbre is a truly great label, and I'm not sure it ever gets the recognition it justly deserves. It's associated with the more 'cerebral' end of improv, and is especially entwined with the Wanderweiser group of composers. This CD has two long pieces, Hull Not Continent at 22:14 minutes long, and Treader Always In Station at 34:21 minutes; it comes wrapped in a sombre, sparsely decorated card wallet.

Writing about these works could well benefit from a learned hand on the keyboard - unfortunately, you're stuck with me… But, in a nutshell, these recordings are cryptic, beautiful, and outright terrifying: they're quite something. Hull Not Continent is performed by Distractfold, a quintet (bass clarinet & percussion, electric guitar, violin, flutes, percussion & sine tones), whilst Treader Always In Station is performed by a duo using violas, object & electronics. The cryptic element of the CD is, very simply, how are they achieving these sounds? The soundscape is one of scrapes, noises, and drones - all very achievable with extended techniques - but the level of control, and the deployment of sounds, is quite staggering. Certainly, proficient and imaginative recording would have helped - and indeed, Hull… is recorded by Another Timbre label boss Simon Reynell, a renowned sound recordist. However, even with lots of close-miking and room-recordings, it's still unclear how the ensembles achieve the spatial depth and layers that they do. There is a definite sense of the sound-field contracting and expanding, foregrounding one instrument, whilst another echoes in the corner of the room. On top of this, there are points in Treader… which sound like more than the work of a mere two people. These cryptic elements became 'outright terrifying' with the knowledge that, as far as I can tell, the two works are not only performed live with no processing, but are actually composed by Poliks. This really does stretch the mind's conception of what is achievable. If I was to tailor a simple description of both pieces for Musique Machine's probable audience, I would limn them as academic, electroacoustic takes on the kind of acoustic scrape associated with the Chocolate Monk label and it's peers. However, given that the CD contains (to the best of my knowledge) live performances of composed pieces - well, you can see that Marek Poliks has marshalled something really special here.


I appreciate that I've perhaps said very little about the actual content of Hull Treader, in my words above. So, as I said, we're looking at scrapes, noises, and drones. Instruments stretched and strained, objects caressed and strangled. The kind of clatter utilised equally by numerous outfits in their basements with four-tracks, as by Lachenmann. It's not always noisy, but 'acoustic noise' would push you in the right direction - though several passages of the CD are indeed very subdued and spacious. This in itself surprised me, as I have always - perhaps lazily - associated Another Timbre with often quiet, introspective pieces; here, though, Poliks sets up quite a sustained barrage of sound. This 'barrage', sometimes moving in little blocks, really is constantly engaging, but above all else it's simply sumptuously beautiful sound. (That's the last third of your 'cryptic' and 'terrifying' triptych.) Mesmerisingly detailed sounds and juxtapositions. I imagine quite a few people reading this might well be put off by the 'academic', serious tone that Another Timbre transmits, but ignore those trappings and just dive into the sound - you won't be disappointed.






Martin P