High On Fire - Blessed Black Wings [Relapse - 2005]To say that the new High on Fire album was expected by many is an understatement. Many metalfans fell for Surrounded by Thieves and those who didn't were left bemused by the thundering live performances the trio produced over the last two years. However, things have changed in the last few months with the departure of bass-player George Rice, especially because fans were afraid it would harm the tightness of the band, such was the understanding Rice had with drummer Des Kensel. Matt Pike (ex-Sleep) didn't let the split stand in his way and HoF soon appointed the legendary Joe Preston (ex-Earth, ex-Melvins, Sunn, Thrones…). Many doom heads wetted their pants on hearing the news although Preston hasn't really played in bands that were remotely as fast-playing as HoF can be.Actually, it's quite ironic to reflect on the fact that some where thinking that this album would be slower: after the drum-solo introducing the first track, you're caught in a maelstrom of riffs and licks sounding like the perfect mixture between Slayer and Mötorhead. Yeah, I know everybody is saying the same thing... However, beyond this very first track, the comparison slowly loses its value and we have to face the truth: this is the sound of HoF in its purest form, an unstoppable machinery.Surrounded by Thieves was an excellent album, but Blessed Black Wings tops it in every respect. The production is better, clearer. Steve Albini didn't harm the muddy, dirty, chaotic sound of the band but he did a great work in letting the songs speak for themselves (quite a change from Billy "never enough reverb" Anderson's production on SbT). The quality of the songwriting is also outstanding, giving a lot of room for Kensel to show his drum tricks and of course a lot of solo time for Matt Pike. He is not the most extraordinary guitarist of the world, technically speaking, but he is a master of the riff –and true that they will stay in your head for ages. The epic side of the compositions is also very accentuated, but stay assured that is some grim epics, with a sound that has no problem standing shoulder to shoulder with the tales of death and destruction told by Mr. Pike.Blessed Black Wings is by no means a groundbreaking album, but I don't think you will find a better purely metal album this year. This is gonna put a smile on your face and have you headbanging like you never have in the last ten years. Just don't do it like me: first time I listened to it, I was lying in bed. I fuckin' fell.Photo by Matthew Vlachos






François Monti




High On Fire - Blessed Black Wings
To say that the new High on Fire album was expected by many is an understatement. Many metalfans fell for Surrounded by Thieves and those who didn't were lef...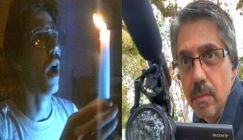 Mark Polonia - Of gore-bound far...
When one thinks of gore-bound, yet creative Short-On- Video films of the 1980's & 1990's- the first two names that come to mind are Mark and John Polonia...