Peter Zinovieff - Electronic Calendar - The EMS Tapes [Space Age Recordings - 2015]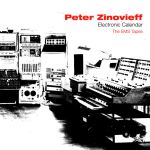 Well, here's a two cd set from a name quite unknown to me, which is surprising, given the life that he has led… I'll be lazy, and quote at length from the press spiel:

Born in 1933 to two Russian aristocrats fleeing the Russian Revolution, Zinovieff, a graduate of Oxford University, worked as a Mathematician in the Air Ministry following World War II and other "boring jobs in atomic physics". During his time at Oxford he met Daphne Oram who taught him the fundamentals of creating music from splices of tape in her private studio prior to formation of the BBC's Radiophonic Workshop. The frustration of working with reels of tape led Zinovieff to ponder the idea of an electrically controlled studio, and in 1964 he sold his wife's wedding tiara to purchase the first computer ever housed on a private estate.
Zinovieff's garden shed in Putney became the most advanced music studio in the world, housing 384 oscillators, as well as a collection of filters, noise generators, ring modulators, signal analysers and amplifiers built with the help of his college David Cockerall using ex-Army electrical components. The centre of the studio was the computer, running on 8k of memory priced at £1/byte (£8000) allowing thousands of musical parameters to be sequenced several thousand times a second.
Throughout the 1960's and 70's Zinovieff's studios housed a community of passing intellectuals, engineers, inventors and hippies, becoming a place of pilgrimage for musicians looking to discover previously unheard sounds; Peter's daughter Sofka recalls, "I'd be having tea in the kitchen with my two younger brothers, when people like David Bowie, Paul McCartney or Pink Floyd would pass by on their way to the studio". Other visitors included Kraftwerk, Klaus Schulze, King Crimson, Alan Sutcliffe, Hans Wener Henze and Karlheinz Stockhausen to name but a few.
During 1966-67 Zinovieff worked closely with Delia Derbyshire and Brian Hodgson on their post-Workshop project 'Unit Delta Plus', together they attempted to create commercially viable sounds for TV, film and advertising without success, although Zinovieff admits "I didn't want to have a commercial studio, I wanted an experimental studio where good composers could work and not pay".
In 1969 Zinovieff formed EMS (Electronic Music Studios Ltd.) with Tristram Cary and David Cockerell and together they developed the EMS VCS3, a portable analog synthesizer used on Pink Floyd's 'On The Run' and The Who's 'Won't Get Fooled Again' whilst becoming a staple of the studios of Brian Eno, Jean Michel Jarre and Todd Rundgren.

All of which, really suggests that he should be a household name - at least in the households most of us inhabit. This matter isn't helped by the apparent lack of released material - enter his name into the Discogs website, and you'll be rewarded with just one release dedicated wholly to him: this one. 'Electronic Calendar - The EMS Tapes'ý (I'm reviewing a digital version), enters this void conclusively, arriving with a large (sixty-four page), comprehensive booklet; this is filled with texts on Zinovieff, as well as words from the man himself, and all complimented by pictures of his monstrous, cutting edge, studio equipment.


The two cds are split very simply: the first concerns itself with collaborations with Harrison Birtwistle, and Hans Werner Henze; whilst the second has fourteen, often shorter, tracks, covering a wide range of sounds. The collaboration pieces are generally more austere than the works from the second cd, more clearly aligned with 'classical music'. The first two Birtwistle collaborations are dominated by the sounds of clocks, with 'Chronometer '71' pushing ticks and tocks around the stereo field, with noisy tape work; whilst 'Birthday Song' is a short, haunting, eighty-one seconds of dreaming clocks. 'Four Interludes For A Tragedy' is a curious piece, quiet and restrained; unfolding at a measured pace, with slowly disappearing bleeps and subterranean rumbles. The pieces with Hans Werner Henze stick to this acousmatic method, but also incorporate orchestral sounds and voices. 'Glass Music' pits shrill, 'glassy' tones against murky drones, stuttering pianos and stressed woodwinds. 'China Music' does similar things, albeit with even murkier results, but features percussive strums on something we could presume is a chinese lute or zither. The remaining two tracks, 'Tristan (Short Section)' and 'Tristan (Long Section)', are quiet different in tone. The longer piece is agitated, sometimes almost manic, with shards of processed piano flying left and right; and in the midst of it all, a striding male voice singing cryptic lyrics. The shorter section, on the other hand, is dominated by an eerie, wavering orchestral drone; topped by an incredibly unsettling monologue from a child - the young narrator almost stumbling over the words. It's bizarrely intense.


The second cd has more of a wandering compilation feel to it, but, at the same time, is quite focussed on abstract, electronic, synthesized sounds. Saying that, the first track, 'Agnus Dei', is actually a very eerie - creepy, even - version of the christian mass that gives it it's name. Warbling female voices float through the sound-field, accompanied by funereal sounds that evoke organs and strings; to use a cheap comparison, it's music for a grimy '60s horror… The remaining pieces (barring 'M-Piriform', with it's mangled orchestral instrumentation and strained operatic vocal) often explore very basic - to our ears - synthesizer sounds: grainy bleeps and poots, bubbling percussion and smeared electronic lines; with primitive reverbs adding depth and noise to the colourful tones. To give you a sense of the general scheme, some of the tracks could be dismissively referred to as 'computer babble'; that perhaps suggests the atmosphere and sounds to be heard, but there's rarely a sense of 'babble'. 'Tarantella' is a stuttering, polyrhythmic charge - Mark Fell in a more primeval form. The intriguingly named 'A Lollipop For Papa' is a hyperactive squiggle, that often sounds like the Residents attempting classical material; armed with simple synth sounds and a desire for discordancy. 'Zasp Parts 1-3', created with Alan Sutcliffe in 1967, is a concentrated exploration of primal synth sounds and control; it would have won first prize at the IFIP (International Federation for Information Processing) Congress - a society dedicated to computer arts - but for one Iannis Xenakis… 'January Tensions (Excerpt)' is, with a degree of licence, a precursor to cut-up harsh noise; twisting, turning, and shifting, complete with passages of restraint. There are also four 'untitled' pieces - 'Un Known 1', 'Un Named 1', 'Un Named 2', and 'Un Named 3' - and all of these are beautifully short, concise tape obscurations. Abstract, and laden with atmosphere, these vignettes ('Un Named 2' is just short of thirty seconds!) are probably my favourite pieces on the cds. They evoke huge, grand forces, vast swathes of sound; but deliver them in odd, cryptic interludes. It's almost as if they present a fiendish puzzle. The last two pieces on the album stand apart a little, too. The first, 'Raasay Digitised', is clearly a voice subjected to electronic treatment, reminding us that Zinovieff created (in effect) the worlds first vocoder - though the booklet also says that he and his associates created the first multi-effects unit for a guitar… Never mind. The second, and final, track, 'Now Is The Time To Say Goodbye', was the last piece recorded in the EMS studio before it was flooded and destroyed in 1979. A slow, dark dream of a track, it almost summarises Zinovieff's past; with stuttering pianos, high-pitched glass sounds, lute/zither twangs, murky, breathy drones and apparently the man himself being interviewed. At the risk of sounding histrionic, its almost a prophetic requiem for the studio.


To be as concise as one of his tiny, unnamed pieces, this collection from Zinovieff can be considered quite essential. From a historical point of view, it is - to use a word I hate - a 'no-brainer': the cds and booklet clearly make the case for Zinovieff to be considered a pivotal figure in electronic music. From the point of view of the sounds themselves, its a 'partial-brainer'. (Indeed.) The works here are clearly from a different age, and I can imagine some people being turned off by the primal synth sounds to be found on the second cd. However, these tracks are often rigorous and concentrated - as I said, they're not guilty of a cheap 'computer babble' charge. The best of the collaborative tracks from the first cd, and 'Agnus Dei' and the 'untitled' pieces from the second, all carry a genuine sense of obscurity and 'detached' sound exploration. They do sound like windows into another world. The fact that they come from a different era, via contemporaneous recording qualities, also gives them a degree of murk and noise - translating often, in my mind, to a carried sense of dread. They're not overtly dark pieces, necessarily, but regardless, they seem to carry this weight, or present that possible interpretation. As a side-note, the release also reminds us of the unquestionable link between music and technology - or rather, how new developments in equipment can govern the development of sounds and music themselves. This is a great compilation, clearly criminally overdue, and one I look forward to revisiting.






Martin P