Achim Wollscheid & Bernhard Schreiner - Calibrated Contingency [Baskaru - 2014]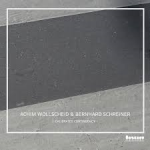 This live performance comes packaged in a professionally printed digipak, on a pro cd. 'Calibrated Contingency' consists of one long track, just over forty-seven minutes in duration, and was recorded at Kunsthaus, in Graz, in 2011. The entire affair is founded on plenty of conceptual baggage. Both Wollscheid and Schreiner play very simple set-ups - computer and boundary mic, and computer, induction coil and radio, respectively - and performed somewhat unusually: 'The speakers were positioned on a straight line facing the audience, the players were separated by a wall, each of them playing one stereo setup.'. The cd itself, presents a 'stereo-mix' of the event.

It's unclear why the duo were divided by a wall: it seems theatrical and of very little consequence whatsoever. There's no suggestion on the cd's text, that the performers could not hear each other; they could apparently only not see each other. Given that musicians have played together for centuries without looking at each other, it's very hard to see the purpose or significance of this physical division. I'm only writing such mean-spirited words, because the division is flagged up on the cd text and given such apparent significance. That griping aside, I may as well compound things, and rudely say that 'Calibrated Contingency' really did sound as I imagined it would. I don't mean to sound dismissive, it simply aligned very neatly with my expectations. So, the duo explore and cajole a reasonably restricted palette of (generally) noisy sounds: creeping feedback drones, sub-bass throbs and rumble, all out noise bursts, crackle, glitching electronics, and sounds akin to malfunctioning machinery. Buried amongst this, though, it's possible to sometimes hear more obviously melodic, synth-like tones; with organ-like stabs and lines, rising and swooping. However, overall, 'Calibrated Contingency' is a tangled mess of 'academic' noise - by which I mean that, despite deploying abrasive and distressed sounds, the album is never truly noisy or abrasive itself. It's pretty much what it is: an album of electroacoustic improvisation; thus lacking the structural possibilities of a composition. There are passages where the duo coalesce, sometimes bringing to mind a rawer Parmegiani; but these sections are few and far between. Though, to make it clear that it's not all noisiness, there's some nice interplay after the twenty-minute mark; creating a subdued, murky atmosphere with looming drones, flapping sounds and crackle.

This isn't a remotely bad album, but I do think that the conceptual baggage does little to add to it. It's certainly a rigorous, 'hard boiled' listen, given the quite restricted colours employed by Wollscheid and Schreiner. Like all improvisation, there are peaks and troughs; with the duo generally moving slowly, but at some points discarding promising situations too quickly. As I said above, it's not an assault of noise, but neither is it measured or overly cerebral. It really is that 'tangled mess of 'academic' noise', with islands of striking passages emerging from an often so-so sea.






Martin P