Various Artists - Too Slow to Disco Vol. 2 [How Do You Are? - 2015]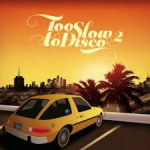 Hearing "late 70's/early 80's compilation" would likely conjure up Punk, Post Punk, or New Wave images, and that's understandable; these genres shaped many lives during that era. However, stuck between the ubiquitous cold pop and booty shakin' disco, a soft, smooth scene full of grooves was chugging along. Whether it was called blue-eyed soul, yacht pop, or any other descriptive name, the music was the same: awesomely chill, softly sung, supremely catchy, and sunny as a California afternoon. It's this scene that has captivated Berlin's DJ Supermarkt. In his second volume of soft, joyous ear candy, DJ Supermarkt presents acts from corners as far flung as L.A. and Cologne, with stops in between.

Opening with the most well known name on the compilation, Hall & Oates' "Alone Too Long" comes at us from their self titled record. Minorly funky bass and a gorgeous duet remind the listener why Hall & Oates became a household name. Although years before their megahits, Daryl and John were busy constructing well written, well produced, and well played albums that still sound amazing today. Without missing a step, Ben Sidran's "Hey Hey Baby" slides into the second spot. Jazz pianist, former Steve Miller Band member, and all around smooth cat, Ben's piano and tight drum approach makes a solid base for his soft, quickly paced vocals. Following this is "Be That Way" by Jimmy Gray Hall. Upbeat blue-eyed soul with a light bit of funk, this peppy number is hard not to love. Whether it's Jimmy's velvet voice or the wonderful horns, the highs play in perfect conjunction with the rhythm section. Continuing with the boppy, upbeat vibe is Eric Kaz's "Come With Me." Much like Ben Sidran's entry, Eric's features a lot of piano in addition to a really active sax. Leblanc & Carr's "Stronger Love" slows the pace down a tad. While the bass continues to chug along, the cotton vocals and gauzy keys and flute help this one to spread its wings and add some drifting and daydreaming into the head-nodding fun. Falling somewhere between Chicago and an 80's sitcom theme is Dave Raynor's "Leave Me Alone Tonight." While the TV comment sounds like a negative, themes are such an awesome part of the viewing experience, and great themes will stick with someone for a lifetime. R&J Stone bring the slow silk with "Keep On Holding Me." The duet between husband and wife works so well over the soft keyboards and light drum work. Returning to the familiar, tv-esque vibe is Larsen-Feiten Band and "Who'll Be the Fool Tonight?" Super catchy and very familiar feeling, the chorus carries this number all around one's ears until it takes up permanent residence. Taking us more on a light disco pop trip is Byrne & Barnes' "Never Gonna Stop Lovin' You." The synthiest track on the compilation so far, this one is pure fun and sun. "Medicine Woman" by Paul Davis calms it back down with some smooth blue-eyed soul. Soft choral pieces act in call and response with synthesizer in between lovely piped vocals. 70's drum for hire Joe Vitale's funk-disco track, "Step on You," hits all the checkmarks of the genre: staccato keys, deep bass, and wahs galore. Niteflyte's slow groove, "If You Want It," follows. Disco/soul one hit wonders with this jam, it's as smooth as it gets. "Never Turnin' Back" by Bruce Hibbard adds some light, relaxing yacht-pop to the mix. Soft and smooth, this track is lovely for drinking. Germany's Streetplayer (named after the Chicago song?) bring some bright disco-funk with "Shades of Winter." The guitars, horns, and bass are all on point in this one, and even the German accented English is endearing. Michael Omartian's "Fat City" seems like the oddball of the album. A little less on the smooth side, "Fat City" plays like an old timey rag with a disco bass. Mike Nesmith, of Monkees fame, closes out the album with "Capsule (Hello People A Hundred Years From Now)." Feeling very Joe Jackson and kinda Zappa, Michael speaks most of his lyrics in a very deliberate way. Less smooth than even "Fat City," "Capsule" seems a strange choice for this collection, but it really adds a nice weirdness to the second side.

Based around acts that are more famous as songwriters or producers than solo artists, Too Slow to Disco Vol 2 pummels the listener with unfamiliar names and makes them instant fans. The songs on this compilation are impeccably selected and play so well off of each other. Never a dull moment, DJ Supermarkt's efforts to find and compile this are very welcome. This album comes highly recommended to anyone with even the slightest interest in smooth, sunny, champagne jams.






Paul Casey