Zombi - The Zombi Anthology [Relapse Records - 2015]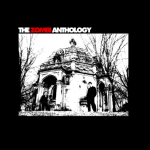 In my mid-teens, I had some friends that were using Prodigy and AOL to access the World Wide Web. Content with my Sega Genesis and playing Zork on my 486 HP, I didn't see the fascination or need to chat or game with people I never met, and presumably, didn't care about. A few months before college, my father got a new computer, and when I would go over, I found out the internet had a ton of free, nude pics and videos, and I started to see the light. That August (1998, for those that want to know more), I got my first email address, and began to search the 'net for others sharing similar interests to my own (Gary Numan, Full House, Death Metal, Noise, etc). By the time I was a senior, the available content had grown exponentially, and through Napster, FTPs, and web hosted P2P sites, I was able to access more files and music than I had ever dreamed. I was a steady fixture on the Relapse Records board at that time, and I heard a lot of buzz about a new band from Pittsburgh, Zombi. Having my cinematic horizons broadened in the years prior, I was heavily digging Italian horror and the film scores they contained. And, being a big synth fan since I was plopped in front of MTV in 1983, Zombi was a natural fit for me. I downloaded their release, and thoroughly enjoyed it. However, I was myopic, and managed to only keep one track with me, "Sequence 2." The MP3 cd was eventually misplaced, and I lost my connection with, but not my memory of, Zombi. Now, nearly 14 years later, Relapse has re-released their earliest recordings, and made them available for the first time commercially.
Long before A.E. Paterra and Steve Moore took on a sound more inspired by Giorgio Moroder, Zombi wore its horror movie soundtrack roots on its sleeve. Playing something akin to a John Carpenter score mixed with Goblin influences, Zombi uses drums, synths, and the occasional guitar/bass to bring their brand of space rock to the fore. The first eight tracks on the anthology come from Zombi's self-titled, self-released debut album. Donning the titles of Sequence and the track number, they're not very creative in name, but the music contained is really inspired. Back when this material was first released, not many (er, none that I know of) were doing horror movie influenced rock. Zombi helped pave the way for the current glut of these acts that we're now experiencing. Tracks like "Sequence 1" and "Sequence 4" play like they're straight out of Carpenter's Escape From New York or Assault on Precinct 13. Whether quick and pulse pounding (1) or slow, low, and brooding (4), the drums and synths work in conjunction to bring the listener back to a simpler, neon filled time. Also in this simple time, there were awesome video games with awesome music. "Sequence 2" and "Sequence 8" really fit this mold. To me, 2 sounds like a fun, well rendered mix of both Forbidden Forest and Wizard of Wor, while 8 has a certain royal court/fantasy feel that hearkens back to many 8-bit quests that kept kids up late on school nights. The final four tracks on the album come from Zombi's limited Twilight Sentinel 12". Recorded in 2003, released in 2007, and featuring an alternate version of "Sequence 8," these four tracks show a great amount of growth by the band in a very short amount of time. Launching themselves deeper into space (by feel and title), the duo leave their horror movie roots behind and focus on discovering their own path through the cosmos. "Gemini, Pt 2" could work well in any sci-fi movie, while "Twilight Sentinel" and "DMC-12," with their engaging rhythms and drumbeats, would make any interstellar club goer a happy camper. On these tracks, not only do the arrangements show improvement, but the instrumentation has grown tighter as well. Their synths have moved closer to their full potential, and the Zombi we know today can be seen in its infancy.
Having been on the scene for quite a while, Zombi's roots are often overlooked. However, it's through these early recordings that one can see from where such a well known, well respected, and influential band arose. Thanks to Relapse, fans can now reunite with these older tracks, and possibly fill in the blanks of their Zombi collection.






Paul Casey