Absconditus - Katavasis [I Voidhanger Records - 2015]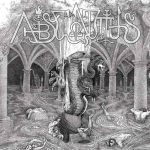 Whenever I get something from I, Voidhanger Records I immediately check it out. There isnít a label on earth that can match the quality of their atmospheric black metal releases. Iím sad to report that this debut album from Absconditus breaks the labelís streak of awesome albums.

Like so many of I, Voidhangerís releases, Katavasis is black metal with a bit of a twist, but where many of the labelís acts head towards the stars for inspiration, Absconditus turns its sights down to hell. Although the band is French, the most obvious similarities can be drawn to Greek acts like Acherontas or Acrimonious. The general feel of unease and strangeness that permeates the album is shared with many of these other orthodox bands. In this regard, Katavasis is no different from the rest of these faceless, flavor of the month bands. However, the songwriting is more complex and meandering, betraying the membersí progressive leanings. There are moments where the technicality of the leads pop out of the shapeless song structure, but much of the album devolves into discursive sections that donít fit well together. The members are all very proficient, but the effect when taken as a whole is rather formless and unimpressive, lacking emotional climaxes and depth. It shares both the general lack of direction found in orthodox black metal combined with the soulless technicality of progressive metal and none of the strengths.

Whereas I usually see what drew the owner of I, Voidhanger Records to a particular band, thereís nothing here that leaps out for me. This is trendy black metal of the most generic stripe, and would be a better fit on DWP. Truly a disappointing album.






Tyler L.