Ad Nauseam - Nihil Quam Vacuitas Ordinatum Est [Lavadome Production - 2015]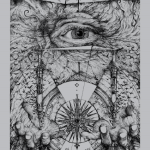 After five years in the making, Italian quartet Ad Nauseam have finally unleashed their debut upon the metal world. This was not time spend idly, either, as this album is impeccably crafted, played, and mastered. So much care went into this record that it's hard to believe it's a debut. The song structures and dedication to recording are akin to some of the mightiest bands around, and show the immense talent of a band that clearly doesn't settle for second best. Ad Nauseam's commitment to complex beauty and crushing death is very welcome in a time when speed and nearly unlistenable technicality are flooding the scene.

There's something to be said about a death metal record that indulges in the calm, dissonant respites between blasting frenzies of brutality and makes them as important as the crushing metal that cradles the album in its razor sharp arms. Played with skill and intensity, and crafted with massive care and attention to detail, NQVOE feels close to Gorguts' latest masterpiece, Colored Sands. However, to simply compare this album to another is unfair and undermines Ad Nauseam's effort and talent. While similar in feeling, NQVOE stands on its own as a crushing juggernaut of intense riffing, ferocious drums, diabolical vocals, and low, chunky, deftly played bass all piloted by thoughtful, down tempo pieces that bide their time behind the metal hull awaiting their time to shine. The long, well crafted songs on NQVOE greatly impress upon first listen, but it doesn't stop there. Each ensuing listen reveals more of the complex song structure and makes the experience feel new all over again. To craft an album that begs to be listened to over and over without the benefit of catchy hooks speaks volumes about the strength of the songwriting and musicianship of the band.

Ad Nauseam's skill with brutality is coupled with sparse, beautifully dissonant breaks that not only stand well on their own, but help to increase the intensity of their crushing other half. Like a death metal Apollo and Dionysus, both work in conjunction to make a unique being that stands on both sides of the mirror. The listener, as interpreter of myth, is allowed to see this construct for what it truly is, and by doing so, is bettered for having experienced it.






Paul Casey