Kesä - Kesä [Svart Records - 2015]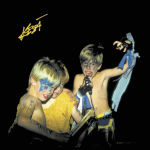 Forged from the ashes of local punk and hardcore bands, Helsinki's Kesä are set to release their self titled debut on Svart Records later this month. Using their shared love of the music they grew up with as their inspiration, Kesä plays a modern take on New Wave, New Romanticism, and other cold, synthy 80's styles. Despite the commitment to colder vibes and textures, Kesä's inspiration and dedication feels true and through this creates something cold, but warm with feeling, and robotic, but still pretty danceable.

With an album cover showcasing youths dressed in imaginative KISS costumes, one can tell that the focus of this album is inspiration and tribute. Playing a style akin to 80's post punk mixed with New Wave, Kesä's propulsive and infectious grooves are rife with 80's synth stabs, catchy choruses, and workaday guitars that were once so popular. While Kesä are definitely paying tribute to the music of their youth, they're not merely here to pantomime the style as seems to be the rage these days. Taking the synthy tribute of Cold Cave a bit further into post punk territory, the more complex song structures help keep modern audiences interested. In addition to their well done and true interpretation of these styles, Kesä have the benefit of nearly 30 years of separation and hindsight. Industrial edges are added to some tracks to lift them above mimicry and give them a life of their own. "Pääskyvuori," for example, pounds with deliberate, plodding bass drums while high, electronic toms click forward coldly. The echoed refrain furthers this factory setting and adds a lot of depth. Personal highlights are "Se ei sanonut mitään" and it's very Listen era A Flock of Seagulls feel and the soft, contemplative "Harju."

If the album were dropped back in time, Kesä wouldn't fit seamlessly into the era it loves so well, but then again, it's not meant to. Taking and building on the elements they grew up with and hold as inspiration, Kesä puts out a loving tribute that is wholly their own and would please almost any music fan coming from this generation. Whether you're feeling nostalgic or just never left the 80's, you would do well in checking out the debut album from Kesä.






Paul Casey