Frank Sidebottom - Fantastic Show Biz Box Set [Cherry Red - 2010]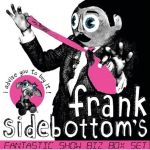 Frank Sidebottom was one of great, original & often bizarre British comedy/ variety acts of the 1980's/ early 1990's. To Brits of a certain age( i.e. mid 30's onwards) Frank is instantly recognizable due to his TV appearance in the 1980's- with his large spherical fake head, & 1950s-style sharp suites. His brand of quirky humour & reinterpretations of popular pop & rock songs, was both very English & bizarrely unequal. This box set offers up four CD's worth of material, as well as a DVD- the set takes in two full length Lp's, a selection of 12"' & 10", bonus tracks, and a live DVD.

The man behind the head was Cheshire born Chris Sievey- who sadly passed away in 2010 at the too young age of 54. The character of Sidebottom was portrayed as an aspiring pop star from the small town of Timperley near Altrincham, Greater Manchester. He was seemingly eternal up-beat, enthusiastic, and oblivious to his own failings & lack of success (which of course was cause for much of the humour). The character was 35 years old (& this stayed the same age through-out the passage of time)- he still lived at home with his mother, who is often mentioned. His mother was apparently unaware of her son's popularity. Frank often bickered & argued with his sidekick "Little Frank", a hand puppet who was a exact mini copy of Frank himself- again this created a great amount of humour. Musically I guess you'd say it's a mix of (deliberate) badly played & drum machine heavy synth music, which had elements of rudimentary guitar, banjo & other minimal instrumental elements on top, and this is finished off by Frank's fairly nasally, slightly northern English vocals sung from inside a false head…


So moving onto the set it self, and on disc one we have a collection of 12", and these take in the following releases: from 1986 Christmas Is Really Fantastic E.p -which fit its title taking in a selection of Christmas themed tracks & sketchers. Next is 1988's Frank Sidebottom Salutes The Magic Of Freddie Mercury And Queen And Also Kylie Minogue (You Know, Her Off Neighbours) - which features truly hilarious & chaotic cover versions of Queen classic, such as "We Will Rock You" & "Frank Gordon" ( Frank's version of the Flash Gordon theme tune). Timperley E.p.- which takes in very funny Timperly themed versions of songs like the Kinks "Waterloo Sunset"( retitled Timperley Sunset), Bruce Springsteen's "Born In The USA"( Born in Timperly). And the first side of 1990's Medium Play E.p. (10") – which offers up a more wacky & distinctive cover versions, and sketchers.

Disc two starts off with the second side of Medium Play E.p. (10") , then the rest of disc two is taken up by 13:9:88- which was a LP from 1989, and this is a lot more story based than song based, and takes in Frank's very funny & bizarre journey to the northern seaside town of Blackpool.

Disc three takes in sides one & two of the 1989's double album 5:9:88- and this takes in a mixture of clever & very funny sketchers & skits, along with a selection of a few songs too.

And lastly on disc four we have sides three & four of 5:9:88, and finishing off this last audio disc we have five bonus tracks which takes in Frank's take on the Sex Pistol's with "Anarchy In Timperely"(!) & "God Save The Queen", and a few other great & wacky covers.

The set is topped off with the DVD- and this takes in a selection of 12 live covers, songs & sketchers, taking in the likes of Wham's "Last Christmas" & The Beasties Boys "Fight For Your right to Party". All told it's great addition to the set, and it's great to see Frank in the visual form.

The set comes in a sturdy mainly black, white & pink box- each of the five discs come in their own card sleeves which takes in original & quirky colourful covers of albums & singles. Also with the set you get a full colour 24 page booklet taking in an introduction by long term fan radio DJ Marc Riley, along with a host quotes & memories of the character from others, full track listings, and a slew of colour pictures.

All in all this is a nicely put together set that celebrates the very distinctive, one-off & highly amusing work of this great English comic character. One for those who enjoy a mix of humour and wonky synth craft.






Roger Batty