Eddie Hazel - Game, Dames And Guitar Thangs [Rhino/Warner - 2004]To give less popular but good releases a proper rerelease, but in limited pressings, on CD, Rhino joined forces with Warner under the banner Rhino Handmade. I have no idea what's 'handmade' about it, but this particular one is worth every penny too much I spent on it (American import in a Dutch shop was almost as expensive as a Japanese import, but I figured I needed it. And I was right, I found out once I got home). Eddie Hazel died in 1992 of a liver disorder but became immortal when George Clinton told him to think of the saddest thing he could think of while playing, which turned out to be the thought of his mother dying. It led to a monumental endresult: Maggot Brain. That band of course was Funkadelic with whom he recorded a couple of albums until 1974. Problems (drugs, money, what else?) led to a split and he got hooked up with Motown's The Temptations which signified a shift towards a more psychedelic brand of funk for that band (something I'm going to investigate soon). Then drugs got Eddie in trouble again. Under the influence of angeldust he bit a stewardess in an arguement for which had to do two years.When he came out of prison he rejoined with the funkmob of George Clinton and Bootsy Collins and he recorded this album. The Holy Grail in the P-Funk discography but when I saw it years ago as Japanese import for an insane price I skipped it. And so it came that I'm hearing this album for the first time in 2004. Good thing is that it now includes an EP called Jams From The Heart, a collection made after his death by engineer Jim Callon from demotracks from 1975. So the wait wasn't for nothing.Now, the music: it's wonderful! It's rocketed into my personal P-Funk top 10 almost on first listen. The mood is so deliciously seventies. I'm not one of those seventies fetishists, but this represents the good part for sure. Eddie's signature sound, spaced up with lots of reverb, echo, flange and chorus sounds like he's under water sometimes and of course his solo's are bluesy and warm. There's a bunch of covers although I have a hard time recognizing California Dreaming (Mama's & The Papa's). I Want You (She's So Heavy by The Beatles is obvious though and definitely one of the best versions I've heard. Another great reworking is Physical Love, originally by Bootsy's Rubberband which has turned into a groovy instrumental. The magnum opus on this CD is saved for (almost) last, the long (well past 10 minutes, like many tracks onhere) and emotional From The Bottom Of My Soul, a mighty companion to Maggot Brain, I think.Long tracks with lots of room for Eddie to shine, which he does in a major way. I still can't believe I'm hearing this for the first time after almost 15 years P-Funkateerdom and being a dedicated Buckethead-fan (along with Yngwie J. Malmsteen, Hazel is one of his biggest influences, guitarwise). He's helped out instrumentally by the usual suspects from The Mothership like Michael Hampton, Tiki Fulwood, Glenn Goins, Billy Bass, Bootsy and George Clinton. Vocals are done by The Brides Of Funkenstein, Gary "Mudbone" Cooper and Eddie himself. So you know that the base is solid. The sound is fresh and crispy. The look of the CD itself is okay, but maybe a bit sparse given the suggested exclusivity (handnumbered, limited to 5000). Obligatory linernotes and just a couple of pictures and otherwise no special treats. Oh well, it's the music that counts, right? The recordcompany says it will never be rereleased again, so if you think you're down with the funky guitarinferno found on this slab of silver it's better not to wait too long.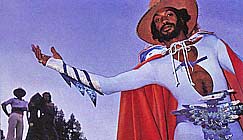 Eddie Hazel - Game, Dames And Gui...
To give less popular but good releases a proper rerelease, but in limited pressings, on CD, Rhino joined forces with Warner under the banner Rhino Handmade. ...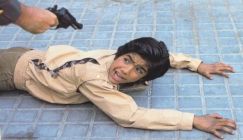 Dr Tom Whittaker - The notoriou...
Late last year Severin released Eloy de la Iglesia's Quinqui Collection- a two Blu-ray set bringing together three brutal and provocative Quinqui (deli...