Meridiem - A Pleasant Fiction [A Necessary Angel - 2004]The second album by Meridiem, led by singer/composer Percy Howard, sees a different approach than its predecessor which had a 'fixed' line-up of Bill Laswell, Fred Frith and Charles Hayward. I haven't heard that but since that is basically the free improv outfit Massacre I can imagine that sounded a bit different from this current release. This album welcomes a very diverse range of guests and the sound of the album varies accordingly. The Girl On The Back Of The Motorcycle opens with Jarboe whispering in dark musical clouds where Percy's dramatic vocals break through like the heavy rains that were lurking in those clouds. Calmly the album proceeds with Melting, sung by Happy Rhodes who has a pleasant voice. Percy returns to sing a beautiful version of Tim Buckley's Chase The Blues Away. Former Nûs-buddy Steve Sullivan provides a great ambient guitar accompaniment there (not his only one on this album, I might add). During the first verse of following track The East you feel there's something in the air again. And there is: a scorching guitar inferno with Vernon Reid, Buckethead and Haroun Serang. We are given some space to breathe again in Brilliant Ending, sung by Jill Tracy and which features some sweet harpplaying by Renee Nelson. The titletrack is the place for Buckethead to shine, it's funny to hear him with a female vocalist (DK Dyson), I think that's a first-timer. They fit eachother: expressive and a bit otherworldly. Can I Get A Witness is carried by Percy, helped by DK Dyson. The song has a strong religious feeling, like some sort of gospelsong put in a different context. Jarboe returns to sing Carlotta and she seems torn and even possessed. Pretty scary. Where You Stand isn't much more comforting with Percy's distorted vocals and John Ettinger's screeching violin. Give Me Everything is the apotheosis of the album, the band consisting of Laswell, Hayward, Reid, Buckethead and Serang accompanies Jarboe's disturbing vocals with a 'directed improvisation' that results in something that feels like a ritualistic cleansing.The lyrics to these songs 'give love a bad name' to paraphrase some rockband I'd rather forget about. Love sure ain't no fun, it's full of pain and sorrow. Personally I'm not a real 'lyricsman' but I can appreciate it when they are a little more than just words. The lyrics on this album are wellwritten and poetic and they deserve attention (if they don't ask it themselves, and they do, I think).All in all A Pleasant Fiction is an impressive album. The big names sure help in making people aware of the release, but I don't think you should buy it for the namesake of one person. At least not with the intention to get a fix of that particular person. Everybody is part of the whole and worked for a great collective endresult. It's a beautiful ambient rockalbum with influences from jazz, gospel and blues with a quite unique sound actually.










Meridiem - A Pleasant Fiction
The second album by Meridiem, led by singer/composer Percy Howard, sees a different approach than its predecessor which had a 'fixed' line-up of Bill Laswel...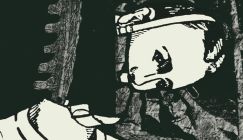 Hastings of Malawi - Deliriously ...
Formed in the early 1980s, after the member's sonic dabbling's on the early Nurse With Wound records, Hastings Of Malawi took a decidedly busy and deta...