Neurosis - The Eye of Every Storm [Relapse - 2004]One of the best bands in heavy music is back six months after having stunned fans and critics alike with their collaboration with Jarboe. Although it always seems that it will prove impossible to top the previous album, once again they managed to do it. First, it's obvious that people who hated Neurosis before will still do after having listened to this album. But fans and newcomers will fin plenty to rejoice. Working for the fourth time with Steve Albini and starting where they had left off with A sun that never sets, Neurosis managed to refine their sound, playing down the aggression while remaining heavy and challenging.The eye of every storm is a sort of symphony for the doomed. I'm not trying to be stupidly emphatic here… The depth of the sounds, the variety of the elements, the quality of the composition make for a really epic musical trip breathing, from start to finish, utter despair and hopelessness. Neurosis have been gradually playing down the in-your-face metal side of their music. It's again the case here, except on a couple of tracks. However, they remain unrelentingly heavy and threatening. Few bands are able to make bleak music sound so damn beautiful. Von Till and Kelly's vocals lean more on the deep and soulful side than on the screaming one, which reinforce the feeling of unease. Musically, they mix rather subdued bits relying quite often on piano, acoustic guitars and some electronics with extremely intense moments of soaring guitar melodies, quasi industrial drums pummelling, and a huge, huge bass sound. It was already there on previous albums, but I think the progressive rock's side of the music is pushed a little further, and so is the psychedelia. Now, everyone should love, adore psychedelia. And among indie hipsters, it has become flavour of the month (a good one, this time around), so the Pink Floyd and Hawkind comparison should bring some more attention to Neurosis music from Mogwai fans (and, in other words, save them from musical mediocrity). Some people will no doubt link The eye of every storm with the long dead post-rock movement, when it should be obvious to all that Neurosis is the only band worthy of the crown The Swans gave up on a few years ago. By far the most enviable crown in underground music. I also see a direct lineage between the Bay Area band and Nick Cave and the Bad Seeds, Tender Prey era.Once again, Neurosis is back with an essential album. Of course, they didn't break uncovered grounds (by them), but this work is by far they most satisfying yet song-wise. One of the best albums of 2004, no doubt…






François Monti




Neurosis - The Eye of Every Storm
One of the best bands in heavy music is back six months after having stunned fans and critics alike with their collaboration with Jarboe. Although it always ...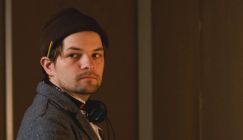 Patrick Picard - Geek-bound fea...
Recently released via Arrow Video The Bloodhound stands as one of the more classy, distinctive, and subtle uneasy psychological thrillers to appear in some y...