Medico Doktor Vibes - Liter Thru Dorker Vibes [Companion Records - 2014]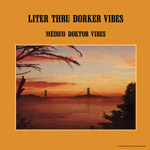 This is a re-issue of a private pressing from 1979, in a digipak with very simple artwork: track titles, a picture-postcard front cover and a photo of a doctor - Mr Medico Doktor Vibes himself, I assume. I've crossed paths with him before - the opening track of "Liter Thru Dorker Vibes" was on an excellent private pressing compilation on Sinecure, but other than that I know nothing about him. Often the story behind this kind of venture is just as interesting as the music itself, but for this review I'll just concern myself with the sounds.

The aforementioned opening track, "Diska Limba Man", is a jittery disco curiosity and it sets out Medico Doktor Vibes' stall for the rest of the album. Mysterious rhythms, idiosyncratic rock guitar, wheezing keyboards and frail vocals. The rhythms are mysterious, primarily because its hard to figure out if they're from primitive drum machines or acoustic kits. On "Diska Limba…" the martial beat seems undoubtedly from the former, but elsewhere, "Take A Closer Look" for example, an acoustic kit seems more likely; however, the "flatness" of the drum dynamics and their weak sound, along with the buried production, leave the issue unresolved. The idiosyncratic guitar work is much clearer though, sometimes supporting the main rhythm/melody, but often wandering off on its own trail. In that respect, its not unlike Hendrix - and indeed, "Liter Thru…" is covered in funky wah moves - but its a detuned Hendrix on a bad night. The keyboard/synth parts are arguably the bedrock of the overall sound, sometimes manifesting as lurching, morose bass-lines, sometimes as singing lead parts; but always with a "cheesy" or "preset" quality. On top of this, Medico Doktor Vibes sings, somewhat weakened by the production, alas; so the lyrics can be indistinct at times. Indeed, the lo-fi quality of the album obscures the entire work; not in an overdriven or saturated way, but resulting in a thin sound, where the various elements fight for space.

I could probably have bypassed the above paragraph, by writing "its outsider music" in the introduction; but I wanted to avoid using that term. I think its used too cheaply sometimes, often ending up as practically a slur. So I'm loathe to use it without first defining my thoughts around it. I can agree with the general notion of what "outsider music" is/might be and it certainly works as a shorthand; but it raises the issue of what precisely "normal" music is. I'm firmly of the belief that music is music, so I'm compelled to always put "outsider music" in speech-marks and use it in the most positive light of "people doing their thing". If people just did "their thing", music would be a lot more fun and a lot more interesting.

"Liter Thru Dorker Vibes" would fit into the "outsider music" slot quite happily; according to both my definition and the general definition. Its undoubtedly meant as a joyful, soulful album; there's an uplifting, spiritual vibe to the lyrics and music and a clear warmth and "openness". However, I can't shake the strange bleakness, a creeping darkness that pervades the whole album. A prime example would be "Take A Closer Look", which crawls along on a funereal bass line; or "Dig This Calypso", which has something weirdly "unsettling" about it, despite its tropical atmosphere. The whole release has an odd tone to it. There are two instrumental tracks: "Water Late", which sounds like the early Fall - if Mark E. Smith had sanctioned long, wah-ing guitar solos - and "Kalimba Tune" which is indeed four minutes of quite beautiful kalimba playing. (Revealing Medico Doktor Vibes as the object of "Diska Limba Man's" eulogisation: "this kalimba man".) This kalimba instrumental sticks out like a sore thumb, but its the key to "Liter Thru Dorker Vibes": this is an album recorded by someone doing "their thing".






Martin P