Aborted - The Necrotic Manifesto [Century Media - 2014]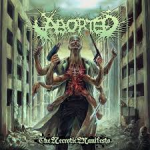 Belgium: chocolate, beer, waffles, Aborted. I know, the Homer Simpsons in all of you is saying, "Aborted? You can't eat that." Well, contrary to his belief, now you can! The newest release from these death metal goremeisters comes to us in a crunchy CD, a chewy LP, a nicely stacked, buttery, limited box set, and, unfortunately, an inedible digital edition. While the various editions have different goodies and bonuses, they all share one thing: blistering, gore soaked death metal.

Aborted have been in the game a long time, so you can excuse them for certain death metal cliches. Anyone who's checked out a Mortician album has heard enough horror movie samples to last a lifetime, so that well has run dry. However, Aborted lowers their bucket into it and manages to find a non-tedious glassful of samples. The intro, "Six Feet of Foreplay," plays some grave robbing audio before breaking into a Hellraiser sample. It's a quick one, though, and before your eyes start to roll, "The Extirpation Agenda" blasts forth like the wave of ghosts after the Valkyrie unlocks a door in Gauntlet (I love Gauntlet!!!). Three minutes of blasting fury later, another Hellraiser sample rears its head. Brief, yes, but a quick breather before Sven and the boys' sonic tidal wave drag us back under. This is the general M.O. for this album. Speed, solos, speed, sample, speed, solo, speed, lather, rinse, repeat. It's a familiar metal formula, so don't expect groundbreaking, but it's definitely not tired. Maybe that's because of the skill and speed with which The Necrotic Manifesto is played. It's techy, heavy, and fast, just like me (well, minus techy and fast). Mixed into the hyper riffing and blast beats are some really tight breakdowns and well executed solos. While the guitars are definitely impressive, it's hard, if not impossible, to overlook the drums on this. Firstly, they're pretty high in the mix. That's not a huge surprise, really, as most modern death is tweaked that way. Secondly, they're wicked good. Ken Beden is a monster behind the kit and his speed helps to propel the already fast guitars along. The other side of this, though, is the bass. It's presence is felt, but I wish it were given a bit more of a voice. Hearing those notes would definitely add some grime to the bottom and make the album twice as rad.

Having brought up the different editions earlier, I should explain the differences. The CD is the basic, 14 song album. The limited box contains this cd, a slimline cd with three bonus songs (two of which are covers - Suffocation's "Funeral Inception" and Converge's "Concubine"), the Aborted card game (!), and a die. The LP, though, is treated better than the CD, and adds in the bonus disc from the box. Even the digital format is better, combining the 14 track album with a cover of Sepultura's "Arise." You hipsters and non-pack rats are cramping my style.

The Necrotic Manifesto is nothing new, but it's well done and really enjoyable. While I'm let down by the edition variations and non-love for CD, it really doesn't matter as I got a review copy. So, make your choice, purchase it, and shred the night away.






Paul Casey