Ritual Stance/Crown Of Bone/Earthenwomb - Split [Altar Of Waste - 2013]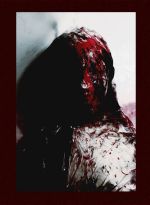 This three way split CDR offers up a truly intense, blackly disturbing, moodily searing, & darkly psychotic 'n' psychedelic mixture of HNW, ANW, & blacked harsh noise. The split brings together three acts from the blacked USA noise underground, and it's fair to say this is one of the most extreme, blackly mind fucking, yet wonderful conceived & executed splits I've heard in sometime.

As with anything put out by this excellent Minneapolis based Altar Of Waste label the packaging for this release is something rather special, & certainly several notches above your normal small underground label outpu…and I think it's fair to say this is one of the most impressive & disturbing arty releases the label has put out thus far. The CDR comes in the standard house style Altar Of Waste see-through DVD case, which features a doubled sided cover. On the front cover we have this really disturbing & darkly tripped out picture of the bloody, blacked & melted human body like shape. On the back cover is a rather creepy black 'n' white photo of a female figure walking down a long curb side pavement city street, which is edged by a seemingly endless brick wall. On the reverse cover we get another stark & moody black 'n' white picture, and this time it's of a female figure facing towards a bleak weird graffiti dobbed white wall- the female is pulling her clothing over her head to revealing her naked back & behind.
Add to this the set comes with 8 page hand-made and hand bound booklet, which takes in a selection of dark artwork connected to the split- we get several more melted & grim human figure like representation similar to the picture on the front cover, a torture dungeon brick wall lined with a black painted metal shackles and torture tools, a old & disturbing drawing of a stabbed female lieing legs askew on a bed…the whole things is held together with a faded blood tinged string, and features a red & yellow oil inked cover.


Opening up the release we have a 34 minute blend of searing yet darkly moody HWN & ANW from Baltimore, Maryland based Ritual Stance- the tracks entitled Allegiance To The Masked One. It's a swirling 'n' moodily shifting yet damn brutal mixture of more battering 'n' buffeting low-end, thinner & wintery storm bound static lashers, and sub-tone textural sweeps of lower to thinner mid ranged noise texturing. As the track progresses the textural elements seem to become more melted & morphed into each other, all creating a feeling akin to been on some reality numbing drug in the middle of a truly battering winter storm- as your psychedelic hazed body is lashed by a mixture of ice cold rain, sleet & snow, and your staggering frame is buffeted by gale force winds.As the track comes in it's last quarter the textures start to blur & thin out more & more in a most effective yet fairly rapid ANW engulfment. And by the end of the tracks 'wall' has reduced down to a truly numbing & ultra break fixed sparse 'n' quiet juddering which rises up one last time in freezing industrial tinged judder loop before the track ends.


Up next we have a just under twenty five minute track from Indianan based Crown Of Bone. The tracks wonderfully entitled Cathedrals Of Dissolving Daemons, and it's a searing 'n' terrifying sonic soup of: walled noise textural roast, layers of bayed & screamed vocals, pummelling & scalding washers of malevolent harsh noise- which are all underpinned (from time to time) by more creepy & terror filling atmospheric synth texturing, blacked yet moody searing electronic trails & corrupted black metal guitar matter. If you've come across this project work in the past you'll pretty much know what to expect here, but I'd say this track is a bit more walled noise in it's feeling( compared with the project normal dense mix of black noise), yet there are still some great details & rewarding shifts present in the layers of terrifying & searing noise matter on display here. So as Crown Of Bone material goes I'd say this stands as some of this projects most effective material thus far.

Last of all we have a track from Springfield, Oregon based Earthenwomb. Their tracks entitled In The Night I Sway To Songs No One Hears, and it comes in at just under the twenty one minute mark. This track is brain scrambling & truly suffocating mix of: taut 'n' tight textural noise feasting & malevolent yet moody synth/electro tone wavering. These two elements are meshed together into a seriously dense & impenetrable blanket of sound, which is completely overwhelming in both its thickness & dark yet sickly sonic engulfment.

So in summing up this split offers up some of the most intense yet darkly tripped-out & deranged blacked noise I've heard, added to this we have the splendid & artily disturbing release artwork & booklet, all making this a must have release if you have even a passing interest in the blacked noise scene. As of writing there are still copies left of this brutal & disturbing masterwork….but I wouldn't hang around as it's only ltd to just 30 copies!.






Roger Batty