Dead Body Collection/Placenta Liposuctio - Split C60 [Narcolepsia - 2014]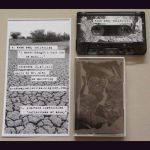 This split C60 cassette offers up two lengthy slices of brutalising & mostly fixed walled noise from these Serbian & Croatia based projects. Dead Body Collection will need little or no introduction to the seasoned wall-head, as this highly prolific project has released just over 100 releases since it started in 2009. Placenta Liposuction, also started off in 09 as well, but this project is a lot less prolific only releasing around a release a year for the last few years…through in all the project has put out around 18 release . This fairly recent tape is the third time these two projects have done a split release together.

First up we have Dead Body Collection side, and on offer here we have the track "I Never Thought I Hurt Her So Much…". This is a taunt, dense and truly punishing example of wall-making, which finds buried rumbling 'n' rolling low-end noise, engulfed by layer upon layer of mid ranged static churn 'n' jitter. DBC locks the textures into a truly suffocating & all engulfing sonic mesh of sound- with the buried rumbling 'n' rolling fixed into a subterranean deep purr, and the layers of static churn fixed into a fairly firm, tonally similarthick mass. Through from time to time you can pick out slight off texture layer shifts, and even sudden densely wound junk metal elements appearing with-in the second matt of tones. Also in the last ten or so mintues I'm sure I can make out this wavering sort of higher pitched element, deep down in the wall, and this seems to be playing out a wavering 'n' hurt harmonic element ever so often- I'm not really sure if this element is truly there or just a trick of my mind or the 'wall' it self , but which ever it's quite intriguing. All told this track is another intense & complete unforgiving piece of brain battering walled noise from this Serbian HNW master.


So turning over the tape, and we find the Placenta Liposuction track which is entitled "Reflections On Decay". This 'wall' is built around a rapid 'n' bitterly cold sounding mid-ranged jitter, which is under-fed by a slightly slower rumbling 'n' juddering churn. All the elements here are fed into a dense & slightly constricted structure that seems to brutally feast on your ears like a sped up recording of rapid and persistent hard frost. This 'wall' feels pretty much total firm in it's attack, and remains focused/ thick through out. All told this sides 'wall' is another rewarding piece of wall-making, and I enjoy the crisper/colder feel of this 'wall', compared with the subterranean meets static churn of the DBC track


This tape comes in a fairly scene generous edition of 55 copies- so all been well you should still be able to snag a copy of this, so if your into dense 'n' punishing walled noise with a appealing yet brutalizing edge to it- this is well worth a look.






Roger Batty