Nervous Corps - Suffocate [Victimolo​gy Rec - 2013]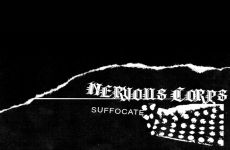 The artwork for this Nervous Corps cdr, all sealed up in a rectangular zip-bag, carries visual nods to what I think is black metal. The front cover alludes to crust, more than anything; with a torn collage depicting a studded garment and messy gothic script. But flipping over to the back cover, all we find is the track length: "63:36" and I wonder if this palindromic duration points towards "666"; giving it a more black metal slant for me. Or perhaps it all simply points to crusty black metal… Either way, the only real trace of these sub-genres in "Suffocate", is the crackle of saturated black metal and the howl of crust.

"Suffocate" is one hour-long wall; and a raspy, spitting wall at that. Its seemingly complete static; but, with a wall in each channel, carries movement between the speakers. The track is dominated by higher-mid-frequency crackle, which violently twists, turns and scuffs - like the loud patter of rain in a storm. By contrast, the lower and higher frequencies are somewhat sedate. The bass element of the piece is a long, rumbling drone that speeds along quite quickly. It lurks underneath, never dominating the wall - indeed, the crackling "distorted" textures of "Suffocate" don't appear to stem too much from the lower end. The treble frequencies are again a near-constant "drone" of almost delicate textures. I'm convinced that if the piece was equalised to remove the middle frequencies, the listener might be left with a reasonably pleasant drone. The middle contains all the rough fury.

This is a curious release. Whilst on the surface, "Suffocate" is apparently violent, the overall impression is of a "mediated" violence: whilst the violence is there, its not really felt. Whether the mediator here is numbness/coldness or angst/depression, or indeed the notion of suffocation, it creates a distanced violence; a declawed intensity that is safer to observe. The whole work is permeated with a subtle shrillness.






Martin P