Vardan - The Wood Is My Coffin [Moribund Records - 2013]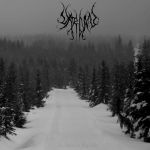 I first heard of Vardan back in 2010 because of their split with Australia's Striborg. It was a decent release but nothing special, so I was curious to see how Vardan had changed in the intervening four years. I like to get a little background on bands before I dig into their releases and the first thing I noticed about Vardan was that he had released four full-lengths in less than a year's time. Maybe it's unfair to judge a band based on something like that, but I do wonder about the quality of a band's material when it's pushed out so quickly. Wouldn't it just be better to take a bit more time and fully develop ideas?

The first things that come to mind when listening to The Wood Is My Coffin's first track, "Night of the Horned Rebirth," are the words 'cold' and 'depressing'. Not exactly surprising given the album art. The slow pace coupled with the cold guitar chords and gravely vocals fit the aforementioned art perfectly, but the execution is off; it plods along and never really goes anywhere and things start looking doubtful for the rest of the album. Thankfully the following tracks are noticeably better than the first one, and "Luciferian Assault" puts things back on track with its frigid, Darkthrone-like tremolo streams. The rest of the album continues on with a mixture of somewhat generic, doomy, depressive passages and slightly more energetic ones with icy tremolo riffs, with the highlight being the closer, "Dawn of the Followers Part II," with some genuinely good, hate-fuelled riffs towards the beginning and some slower passages, with actual substance beyond a single chord.


Clocking in at less than forty minutes in length, The Wood is my Coffin is on the shorter spectrum of full-lengths, but it manages to drag on somewhat despite its short length. The five tracks vary from between six and almost nine minutes, and while there's nothing wrong with longer tracks, the slow pace and lack of variety make listening to the entire album somewhat of a chore. The riffs and music are decent if unoriginal, but the songs drag on about a minute or two too long. I wouldn't go so far as to say that the tracks are boring, but it does take some effort to pay attention for the whole album.


There are some good ideas on The Wood Is My Coffin, but they're compromised by unnecessary padding and a "been-there-done-that" feeling. I have no doubts that Vardan could release a good or even great album, and tracks like "Goatcraft" and "Dawn of the Followers Part II" support that idea. The album is still worth a listen, but it's not quite there yet. Maybe I'm biased because of my prejudices against bands that release albums so often, but I feel that taking more time would be only beneficial to Vardan. The band seems to be on the cusp of "getting it," and it'll be interesting to see if the band improves with its following works.






Tyler L.