Walter - Drumm - Lonberg-Holm - Eruption [Grob - 2004]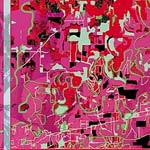 Three famed improvisers record together an album meant to be somewhere between Death Metal and Free Jazz and release it on Grob. I'm sure this is enough for a lot of people to start salivating…

Eruption actually is and isn't the follow up of 2001's Tribute to Masayuki Takayanagi by Walter, Lonberg-Holm and Jim O'Rourke. For those not in the know, Takayanagi was one of the most famous Japanese jazz guitarists of the 60's. Deeply influenced by Albert Ayler, he stopped playing traditional jazz to focus on free jazz 'round 1969. Some people think he is has important to improvised music as Derek Bailey. Until his death in the early 90's, his music constantly evolved, he always tried new techniques. He was with Keith Rowe the first guitarist to ever use a table-top guitar and he influenced or taught people such as Masami Akita, Otomo Yoshihide and Haino Keiji. These biographical details should give you and idea of the importance of the man…Apparently, the tribute album got rejected by critics who thought that the "free improvised death metal" tracks were disrespectful of Takayanagi. This only lead to one thing: it gave Walter the desire to record a follow-up. For this one, instead of O'Rourke, he asked Kevin Drumm to join in. A great choice indeed since Drumm never made a mystery of his passion for Metal music (I remember reading an article about him in which he stated his love for Iron Maiden, Fear Factory's first remix album, and Death Metal).

The album was recorded in one afternoon during the summer of 2002, with Weasel Walter on drums and power-electronics, Fred Lonberg-Holm on cello and Kevin Drumm on guitar. Totally improvised, the music is not as much related to Takayanagi's as it was on the Tribute album. You get a weird mix of free jazz, improvised music, death metal riffs, some blast-beats, a bit of NY no wave and the hectic sound of grindcore (brought to the free jazz world attention by John Zorn's Naked City 15 years ago).

The attitude of Walter in regards to the improvised / free jazz scene comes out quite funnily through the song titles. I just have to share a few of them with you: Crank up the 'bullshit' knob to 10, I just whaled on a music critic with a baseball bat, The Pat Boone of improvised music walks among us, "You aren't being avant-garde in the correct way", Your unlistening musical masturbations aren't quite as interesting as mine and my favourite: I released 78.032 different compact discs of improvised music last week (and sold 14).

You might have noticed that, apart from having put a few tags on it, I haven't been writing about the music in itself. But is it really necessary? Now, you know the ingredients, I should only have to say if meal is good or not, so to speak… Well, for a repentant Metal fan like me it certainly is a very nice listen, especially when Walter start blastbeating in a totally unorthodox way (I can well imagine Morbid Angel's Pete Sandoval frowning if he ever listened to the CD) which brings new life in a way overused technique. It's also quite nice to actually being able to hear Drumm's influence in his playing, sometimes riffing like a maniac, but without ever falling for the "too much testosterone" attitude. Actually, the sound of his guitar has more to do with No Wave than with Metal.

With 40 tracks in 62 minutes, you definitely are in for a good beating. Free jazz snobs will probably hate it but I do enjoy it. Won't put it on repeated listen, but it's a nice way to clean my eardrums.






François Monti