Keiji Haino - "C'est parfait" endoctriné tu tombes... [Turtles' Dream - 2003]With a new solo album scheduled for release any day now, it is high time for us to have a look at Keiji's latest solo album, almost a year old now. "C'est parfait" is the result of Michel Henritzi's attendance at a concert at the Star Pine's Café in Tokyo on 31 March 2002. Lightning-struck by Haino's performance, he insisted on releasing it. For that purpose he created a new sub-label to his A Bruit Secret (known for improvisation of a rather different type, witness releases by Taku Sugimoto and Axel Dörner). These origins explain Haino's first French title, and it's good to see that his peculiar touch survives translation. "C'est parfait" endoctriné tu tombes la tête la première, that is to say: "It's perfect" – indoctrinated you fall head-first…Unlike the preceding solo album (the quietly beautiful Mazu wa iro o nakuso ka on PSF, also known as To start with, let's remove the colour!), "C'est parfait" does not feature any of Haino's guitar playing. Rather, he chooses to invoke his trademark darkness (I guess Haino is still the darkest man ever to walk the planet) with a number of rhythm boxes, a sampler, and his equally personal, blood-curdling voice. The resulting 44 minutes yet again put many a black metal creep to shame in terms of sheer intensity. When was the last time a corpse-painted buffoon gave you the creeps? Always rely on Keiji. A percussive sound that would go quite unnoticed coming from anyone else, with Haino turns into a demonic clang from some bottomless pit. And he really lets the rhythms rip on this one, creating fast eerie drum sequences like I haven't heard from him before. The label's somewhat awkward, yet ultimately helpful phrasing is that Haino plays rhythm boxes the way Cecil Taylor plays the piano. The closest to this that I have heard (and I hardly have all his works, who does by an artist who has been going at it for some 30 odd years, most of them in complete obscurity?), is Abandon all words at a stroke, so that prayer can come pilling out, the double solo album that preceded Mazu wa iro on the Canadian Alien8 label in 2001. Rather than a continuous set, Haino now and again puts everything on halt to begin with a clean slate. Percussion and voice will be sampled and repeated at a later time to loop and combine with whatever he is doing at that moment, so that it's not uncommon to have three Haino screams coming at you at once. Imagine the terror. In the blink of an eye, his hesitant speech and whimpers can make way for a high wavering yell to set your teeth on edge. Add the maniacal synth beats to that and the result is yet another awe-inspiring whole with one spine-tingling climax after another, one to put on around 1 AM before turning in. Sweet dreams, now bring on the new one…






David Bauwens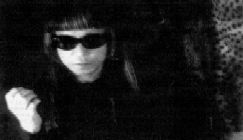 Keiji Haino - "C'est parfait" end...
With a new solo album scheduled for release any day now, it is high time for us to have a look at Keiji's latest solo album, almost a year old now. "C'est pa...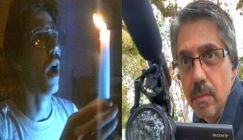 Mark Polonia - Of gore-bound far...
When one thinks of gore-bound, yet creative Short-On- Video films of the 1980's & 1990's- the first two names that come to mind are Mark and John Polonia...