Hearse Fetish - Fickle Blade [Self Release - 2012]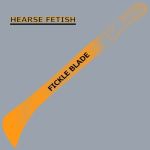 "Fickle Blade" finds this often industrialized Maryland based Hash Noise Wall project giving the listener a dense yet consistently churning serving of walled noise. The release comes in the form of a CDR, which comes in a PC colour printed art work.

The only track presented here is the 49.27 title track, and this starts out with a very fixed & fairly simplistic set of looped layers of rapidly churning yet descending dense & low end static noise tone, which is tipped by smaller yet crisp static judders 'n' jitters. At the eight minute mark a more stuck hissing & urgent static loop is added into the wall, and this becomes it's main focus. The 'wall' now gives one the feeling of been stuck on some static fired steam pressing convey belt. Or I guess been stab again & again, by a sonic knife made of pure hissing static. At the twenty four minute mark we dip into a very thin & reduced mass of looped static jitter 'n' judder, before shifting more onto to more locked down spurting. Then at the thirty tow minute mark we drop into this great mixture of low end billowing & swimming thinner static grain- as this carries on things start to muffle & haze up making it difficult to define where each tones ends. Before one more short return to more meaty billowing in the tracks last minute or so.

The tracks first 'wall' was the most effective & rewarding, and in it's first ten or so minutes the second 'wall' is quite effective too….it's just after a near on twenty minute churning 'n' chopping hissing noise, my mind started to seriously wonder & I started to get more than a little bored- I guess this can be the problem with more simplistic 'wall' structures; if he just added in a bit more tonally detail it would have been fine. The latter 'walls' are ok, though a lot of them really lack any memorabilty or atmosphere, that said the 'wall' appearing around 32 minute mark is most effective here.


While there were a few effective & rewarding 'walls' with-in "Fickle Blade", I felt on the whole the track rather lacked a dynamic & rewarding composition layout, meaning that I came away from the release more than a little disappointed.






Roger Batty