Fausten - Self Titled [Ad Noiseam - 2013]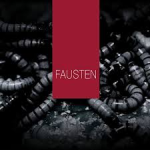 Stormfield and Monster X are both known for their breakcore projects. They eschewed their standard M.O.'s when they teamed up to form Fausten. This collaboration shows a departure of form, but not of intensity. All the breaks have been shattered and fused into an industrial soup with little beat meatballs floating around. It's a pretty tasty bowl.

This debut collaboration is eight new tracks and three remixes (done by Oyaarss, Dadub, and Ontal). Remixes aside, the album plays like a hypnotic industrial ambient. While nearly all the original songs have a beat involved (the exceptions being "Internal Dialogue," "Scalpel Song," and "Portal," to a lesser extent), they never really get fully danceable. The basis for each jam feels like a robotic dream. Synth swells and drones build atmosphere while noise, reverb, and bass hits add industrial character. The more beat oriented tracks feel like something that would work well in the movie Hardware. "Evisceration" has older prog industrial elements that play out well in the rough setting that Fausten has created. "Punishment" makes use of more modern dub/industrial sounds, and one can see why these two are the subjects of the three remixes. The remixes are fun and different takes on the originals. They're far more danceable and don't overindulge themselves. Of the three, I would have to go with Ontal's remix as my favorite. Speaking of, while I enjoyed all the songs, the standouts for me are the ones without a beat. "Internal Dialogue" has a horror movie vibe to it. They synths swirl and draw you in. Weird, low, unintelligible vocals pile up until there's a breakdown and loud sweeps come in to assault. "Scalpel Song" takes a rough soundscape approach. Synth waves, drone flights, and cavernous echoes make for a very full sonic tour of sea, air, and land.

Fausten's first release is solid and very promising. For those that dislike the erratic nature of breakcore, fear not. Fausten is based more in industrial than any of that laptop crap (not that they're not using laptops for this, but...). There was a nice, noisy element to the songs, but I would've preferred a bit more. I went in expecting Winterkalte, and it wasn't close. I really dug this looser approach.






Paul Casey