Violetshaped - Self Titled [Violet Poison - 2013]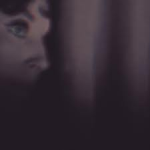 Violetshaped is a pretty new act/collaboration between Berlin's Shapednoise and "mysterious" Violet Poison (yeah, another one of those). Coming into this knowing nothing of either (bad for Shapednoise, great for Violet Poison) allowed me to take in this project without comparing it to the acts of which its comprised. I was pretty excited, too, as the press release promised "Modern and Experimental Hybrid-Techno that moves between Cyberpunk, Industrial, Noise and EBM." Well, some of the statement is true.

Violetshaped is two records coming in at 39 minutes...which is almost 22 too long. With the exception of the first and last tracks, every song begins to drag and get overly repetitive at the two minute mark. I guess it could be worse, though, as most songs take about 10-20 seconds to get started. When the songs aren't testing your patience, they're built with interesting synth loops, crunchy rumbles, industrial beats, and cool robotic sounds. The opener, "State of Temporary Neuronal Effervescence," acts like an intro track. There's a mid pitched buzzing hum with a chugging bass synth running on top. It gave me a definite minor league Dissecting Table vibe. The closer, "Anesthesia," is the other stand out track. Taking a different approach from the other seven songs, there are no beats or beat reminiscent synth lines involved. The sweeping synth swells and reverb play host to bell like synth loops. The loops kinda take you out of it, but overall, it's the second best song on the album. The remaining songs are pretty typical industrial dance tunes for the most part. There are some points when beats double oddly or there are strange pauses. I don't know if this is an unfamiliarity with software/hardware, but it's nothing major.

With the lack of noise and experimentalism, Violetshaped doesn't really have the edge it needs to make it special. Actually, it wouldn't even be fun to dance to. Beats happen and stay the same for too long giving Shapednoise and Violet Poison plenty of time to finish their game of Connect Four and eat some sausages (that latter bit sounds quite nice, actually). The endcaps are good songs and the first two minutes of every other track is decent. Those two bits make it listenable and sometimes entertaining.






Paul Casey