Merzbow & Kapotte Muziek - Works 1987-1993 [Korm Plastics - 2012]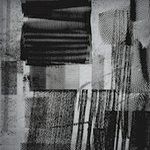 Chances are very good that if you're reading reviews on Musique Machine, you know who Merzbow and Kapotte Muziek are. If you're one of the rare few, no worries, you can catch up on your history after reading this review. Korm Plastics has compiled and released the collaborated works of Merzbow & Kapotte Muziek from 1987-1993 in a 3 CD set. It seems like there's a new Merzbow related release every week, but don't let that taint your opinion of this release. This is classic noise from two giants. There are no laptops, no "save the animals" messages, and no nonsense.

The first disc in this set contains the ZSF Produkt cassette of Merzbow Kapotte Muziek's first collaboration. This was originally released in 1987 as a c60 limited to 40 copies, so it's a rare bird indeed. We are treated to two ~30 minute long, untitled tape sides. As one would assume about twenty five year old, intercontinental cassette collaborations, one artist did the source material (Kapotte Muziek) and the other transformed it (Merzbow). Both tracks sound really distant. I'm not sure if that's on purpose or because of the source material. The first song consists of lots of metal rumblings and rubbings over a mid/hi, quickly oscillating noise. There are awesome low, booming metal hits and rumbles quaking beneath. Sounds build and decay and another is always there to take its place. They sounds have motion to them and are constantly moving the song forward. Fiery feedback screeches across here and there while the lows continue to blast and boom. There's a nice mix of physical and electronic noise here. The second half is less chaotic and more restrained, but still really engaging. The second song has a similar vibe to the first. The awesome low boom is still there, but instead of a noisy oscillation, we get a nagging electronic buzz and a solid, pounding rhythm. This gives way to a really spicy, hot, mic'd metal scrape. Soon, the low, synth oscillation fights the metal for the forefront. It sounds like a workshop in Hell. It's grating, booming, and loud...really excellent stuff. Like the first song, this one hits a quieter point towards the end. Nice tape manipulation gives us something that's relaxed and weird rather than harsh and industrial. The sounds on this tape are well done and their treatment/manipulation/organization is done in a well thought out manner.

Merzbow toured The Netherlands in 1989 and played some collab sets with Kapotte Muziek while there. The lion's share of disc two is their performance at Radio Rataplan. Not surprisingly, this jam sounds a lot like the material on disc one. The low boom is there playing host to lots of squiggles and distorted, phased sounds. Sound loops are much more apparent in their live performance. The loop spins and the front propels via oscillation. It feels like space travel in the 60's (huh? Makes sense to me!). This ending is really interesting. Would've been cool to have been there. The next five tracks are related, I think. "Processed the Tape" reworks the four tracks following it ("4 Track 4 Tracks/1-4"). "Processed" is harsh and delicious. There are sheets of noise over low, furnace bellows. This calms and goes to jack buzz and spotty feedback. The lows return and phased distortion makes a brief appearance. More noise follows. There are some great lows and a fun, crackling high. My favorite track on the collection. The "4 Track" tracks are all loop based. Some have screeching car tire-esque highs and swirling lows, while others have fuzzy noise and air raid sirens. They're all interesting and short. Two compilation tracks follow. "All Set to Go" is a Merz/KM collab. There's a low heat rocking through it. Some of the sounds are heavily panned back and forth and add a cool dimension. The panning/noise and metallic work feeling makes me think of a busy spaceport. "Alles" is Frans De Waard (Kapotte Muziek) and Peter Duimelinks (V2-Archief). Good, solid noisy industrial feel to this one capped off with a dull, throbbing, thick oscillation.

The performance at Radio Rataplan wasn't the only time Merzbow and Kapotte Muziek collaborated while he was in The Netherlands. Their collaborations and recordings were put together and reworked for the Continuum LP. This LP is showcased on the first two tracks of the third disc. Both Continuum songs are comprised of loops, pulses, and beats. There are occasional harsh noise stabs and buzzes. They're active songs and will get you nodding your head in some noise dance trance. The Speedback Variation songs and the Radio Rataplan reworking all appeared on compilations. "Speedback Variation 1" is an interesting, self fed oscillation in a sort of lo-fi outing. The highlight here is the high, well controlled feedback that wails over the low oscillation feedback. "Speedback Variation 2" has some weird children's toy horn type sounds and lots of delay. It's very different than the other stuff on this set. "Radio Rataplan Live Show" is interesting. Some parts are pretty boring, but some are playful in a call and response type fasion. The end turns into an alien, industrial soundscape of some sorts. Pretty nice, but not as good as the original.

Korm Plastics has put out a very good, historical set. Low production runs of older releases basically guarantee their fall into obscurity. Some of these have been rescued and brought to life for a new audience. Two noise greats teamed up to make some excellent sounds. It would be a pity if these had been lost.






Paul Casey