Joe Panzner - Clearing, Polluted [Copy For Your Records - 2011]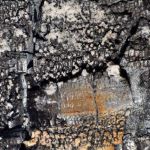 Joe Panzner is half of experimental duo Scenic Railroads. With four solo releases in seven years, his output is sparse. However, they're well reviewed, so a few well done records inspires more confidence than sub-par saturation. Also, Joe's first solo release was on the now defunct Gameboy Records. Gameboy was putting out a lot of awesome releases when I starting to get more serious about noise/experimental. These are good omens for Ol' P McP.

Clearing, Polluted is three tracks at forty six minutes. The three long form tracks are no surprise, especially upon listening. With minutes of minimal crackle at a stretch, you can't really get away with a seven minute track. One of the first things to hit me with this release is the title. It screamed Crawl Unit to me. This feeling stuck around during the first song, "Young Theorist." For the most part of its 17+ minutes, this song is super minimal. Quiet static is broken up by harsh crackle and buzz. We're given an escape from the near silence when a fuzzy, white noise carpet rolls in. After that, it's back to the norm until the buzzing of digital bugs takes us out. Like the album title, this track reminded me a lot of Joe Colley/Crawl Unit. "Hindsight Is 50/50" comes next and is the highlight for me. It begins with some contact mic rubbing reminiscent of Daniel Menche's "Rusty Ghosts." It gets pretty toasty after a few minutes. There is a rad, reverbed metal sound with distortion rolling on top of it. This gives way to loud boiler room antics. You can picture sitting in a tank while work continues as usual all around you. Pretty cool and almost like death industrial. It finishes with a mellow, drony ending. Lastly is "Less Than a Feeling." Ah, poor Brad Delp. More light crackle here along with a low, oscillating buzz. There are spots with rad rumblings, too, like a distant storm. Overall, though, this song feels like just one layer of a bigger song.

Joe's 2011 release is an interesting listen. Two thirds of it are better in the background (well, for me anyway), and one is pretty busy and interesting. The lengths are long, but expected. If you're into minimalism, it's probably worth checking out.






Paul Casey